Mark Stoops Mythbusters Volume II: Tradition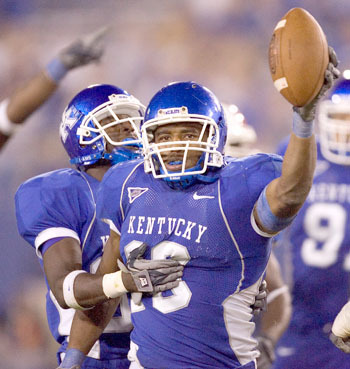 When you look at the names alongside Kentucky you see all the traditional football powerhouses. Alabama. Michigan. Notre Dame. Texas. All teams that have become nearly synonymous with the game of college football due to the decades and decades of winning. Kentucky's history is nearly the opposite. Besides a few scattered glory years Kentucky football has been the doormat of the SEC and because of year after year of a losing record recruits stay away. Kentucky could never hang with the football powerhouses due to the lack of winning tradition. That is, until Stoops came along and demonstrated just how little tradition matters.
Myth: Kentucky's lack of tradition keeps them from success.
Today ESPN examined the staying power of the Cats among the top 15 despite being atrocious last year.
It's especially interesting that Tennessee and Kentucky both have so much momentum. Both have first-year coaches — Butch Jones with the Vols and Mark Stoops with the Wildcats — and they've won just four SEC games between them over the past two seasons. Two of those four wins came against each other.

Granted, these rankings are based on non-binding commitments that can always change, but the success Tennessee and Kentucky are having on the recruiting trail debunks the myth that you have to win big to recruit big. What Jones and Stoops (as well as their staffs) have accomplished on the recruiting trail over the past few months is a testament to the importance of establishing the right relationships, demonstrating an unwavering work ethic and effectively selling your vision.
While a winning program can certainly make recruiting a lot easier, this staff and others are proving that wins aren't necessary to success. James Franklin of Vanderbilt has transformed that program from the worst in the SEC to a gatekeeper in the East. Teams that are elite beat Vandy and the bottom dwellers suffer a loss. An incredible statement for a school that has been horrible for the majority of SEC history. Much more important to recruiting success seems to be changing the culture with marketing and establishing the right relationships like ESPN said.
In the same way tradition does not automatically result in winning. Alabama spent nearly a decade as just an average program. Michigan lost to Appalachian State en route to languishing under Rich Rod. Notre Dame struggled for years trying to find the perfect fit at head coach before finding the guy in Brian Kelly. The right coach at each of these programs has been able to build them back into BCS contender. Maybe something we will one day see here at Kentucky.
Stoops has been able to take the lack of tradition and use it as a selling point. Guys can come to Kentucky and be on the ground floor of building a winning program. With Stoops so committed to the goal guys get excited and want to bring others along. Drew Barker is the perfect example of a guy buying into that vision.