Marcus Lee is a rebounding machine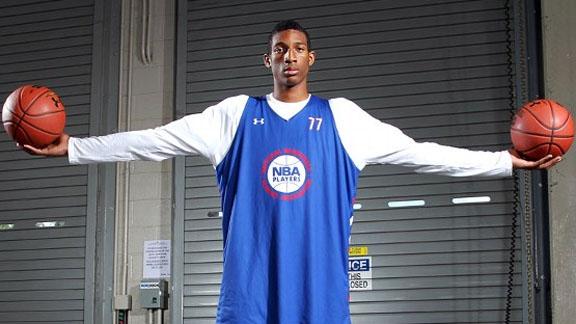 Marcus Lee is often lost in the shadows of Kentucky's 2013 recruiting class behind Andrew and Aaron Harrison, James Young, and now Dakari Johnson.  He's the 18th ranked player in America, according to Rivals.com, but only the fifth best of the six guys in Kentucky's new class with another top 5 player expected to join in the spring.  That's where Kentucky is as a basketball program right now.  John Calipari's sixth best recruit in the class is ranked among the top 20 in the country.  And he's only going to climb in the rankings as the season rolls on.
Lee is putting up insane numbers this season for Deer Valley in Antioch, CA.  He scored 22 points with 25 rebounds, five assists and five blocks in last night's game, and he's averaging 25.5 rebounds over his last four.  Not only that, he's one block per game shy of averaging a triple-double through 31 games this season.  That's what you call dominance, folks.
My point in telling you all this is, don't sleep on Marcus Lee when bragging to your Louisville and Indiana friends about Kentucky's historic recruiting class.  And if you're ever playing against Marcus Lee, forget everything you learned about how to rebound and just get back on defense after a missed shot.