Louisville: The Dregs of the Big East?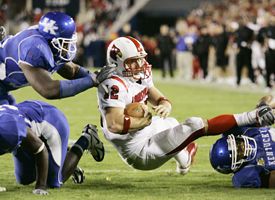 Take a seat, son.
Well, maybe. According to AOL Fanhouse, Louisville is the bottom of the barrel in the not-so-fearsome Big East and a turnaround under Coach Kragthorpe (who has yet to answer how Rich Brooks' a** tastes) isn't very likely in year number two. I generally have a rule to not trust anyone named Chas, but when they are dogging the Cards, I might be a little more likely to listen up. Fanhouse's Chas Rich gives a little profile of the Filthy Cards under the header of "less-than-mediocre, the outhouse, bottom-feeders" and it's very enjoyable for a Cats fan.
Enjoy.
Only 9 returning starters would be enough for most teams to have them falling a few notches. The Cardinals were a bitter disappointment last year under new head coach Steve Kragthorpe. The defense collapsed and wasted the final season for Brian Brohm, Harry Douglas, Mario Urrutia and Gary Barnidge. All four are now in the NFL. An offense that averaged over 35 points was let down by a defense that surrendered more than 31 points per game.

Kragthorpe was despised by the fans for the perceived squandering of a season that began with dreams of going to a BCS bowl for a second straight season. So when rumors surfaced that he was a good possibility for the open Southern Methodist job Cardinals fans were encouraged by the prospect. Instead he has stayed.

In the process, he has seen an incredible roster turnover. Some bad luck, but a lot of disciplinary and academic reasons. Also, however, a lot of dissatisfaction with their treatment by the new coach and their fit in his system.

Kragthorpe obviously knows he is under some pressure to turn things around in a hurry. He fired the defensive coordinator. Then he brought in 10 JUCO players. The most in a recruiting class outside of Kansas State. Those are obvious signs of someone who knows he needs to win and win now.

This has all the makings of a team about to go ka-boom.
I guess all we can do now is debate whether or not Louisville is really that bad?  I guess we'll see on August 31st, but I think it might be a little bit of a stretch to put them alone with Syracuse bringing up the rear of a conference of questionable difficulty.  And, if they're this bad and Vegas still has them as 5 point favorites, what does that say about our Cats?  Somewhere, someone is lying.