LIVE from UK Basketball Media Day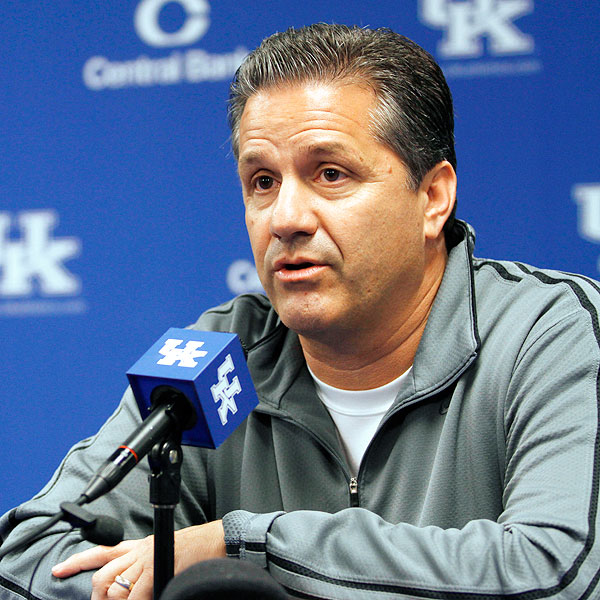 It's that time of the year again, folks: when we gather around John Calipari and his players to hear what they have to say about the upcoming season. It's UK Basketball Media Day 2012 and KSR is here to give you all the notes and quotes as it happens.
If you're interested in following along, open up this post and refresh it occasionally, as I will be updating throughout the afternoon. Feel free to talk amongst yourselves in the comments section, too.
Go Cats.
**********
1:11 — After a delicious lunch of chicken sandwiches and fresh salad in Memorial Coliesum, we are now in the media room of Memorial Coliseum, waiting to hear from the man. Stay tuned.
1:20 — Kentucky volleyball head coach Craig Skinner talking to the media. His team will look to break the national record for attendance at a volleyball game, 17,340,  when they host Mississippi State in Rupp Arena to kick off Big Blue Madness. It'll be the first UK volleyball game to be played in Rupp.
1:21 — Just thinking to myself… The creator of volleyball shorts is a great American.
1:27 — There are A LOT of people in here, the most we've ever seen. It's like the MTV Video Music Awards of media events. All of your favorites are in attendance and dressed in the new fall collections from Marshall's and TJ Maxx. The argyle sweater seems to be a hot item. Maybe we'll do a "Who wore it best?" after the show.
1:34 — Cal has arrived.
1:35 — He opens up by answering a question from Chris Cross, who will not make you jump. Cal said he's trying not to have too much anxiety with this new bunch.
1:36 — Cal said he'll always take talent over experience. He said this group is talented, but we won't know how talented until they play their first game.
1:37 — He doesn't know how much he'll play Nerlens and Willie together. "It could be five minutes, it could be 15 minutes." He said he has a lot of ideas but he'll have to wait and see how they do.
1:38 — One the one-and-done… "It is what it is. I'm not going to cheat the kids by making them stay." Cal said he'd like to keep a team for longer than a year, but this is what the system forces him to do.
1:39 — "Maryland and Duke to start, we could be 0-2." He said the guys at Wheeler's Pharmacy yesterday told him, "We're with you Coach. Win or tie."
1:41 — Cal admits to not knowing how to coach kids when he was 28 years old. Telling a story of talking to a former player (UMass, I believe) last night about how much he's changed and he's sorry he didn't do better in the past. He says he's now more knowledgable, experienced, and there's nothing a kid will do or say that he hasn't already seen.
1:43 — NERLENS QUESTIONS!!!!
1:43 — Cal: "Nerlens will practice, and if we played tomorrow, he would play."
1:43 — Dewayne Peevy interrupts. UK's policy is to not comment on eligibility.
Cal, laughing, says, "That's my policy too."
1:44 — Peevy shot that one down immediately. There will be no talk of Nerlens' future today.
1:48 — On ESPN's All-Access feature… "I'm not hiding anything."   "I sleep good. I sleep like a baby."
1:51 — He said he doesn't want the ESPN All-Access feature to be about him. He said he counted "Calipari" in the official press released eight times and he made them take it out. "This is about the kids."
1:52 — He hopes someone from the Hood/Beckham/Polson trio will get minutes. "We'll see."
1:53 — "I like my team. I really do."
1:54 — Kyle Wiltjer told Calipari that he never thought he'd play on a closer team than least year, but this group is close. It's a very tight group.
1:55 — He said kids recruit themselves these days. They're all calling each other, trying to find a place to play together.
1:56 — "We're going to be experimenting against Maryland and Duke. We could take two L's and still be good."
1:57 — "Archie Goodwin is looking more and more like he's out of the mold of DeAndre Liggins and Michael Kidd-Gilchrist."
1:58 — Compares Ryan Harrow to more of a Brandon Knight. "He can score the ball, skilled, like Brandon was, and he's becoming a good layup shooter."
1:59 — "We need to play in November like it's November. And when it's March, we need to play like it's March." —
2:00 — "I don't even think I'm in the basketball business anymore. I'm in the business of helping families."
"This Kentucky Effect is there. It's real."
2:03 — Mitch McConnell story (again)… "You're creating more millionaires than a Wall Street firm."
2:04 — On the old question of, "How does it feel to be the best coach to never win a championship?" … "Ummm… Is that a compliment?"
2:05 — On people getting frustrated by the UK haters… "Well, what do you expect? We're winning. They're not going to throw a party us. They're mad!"
2:06 — Making comparisons of current players to former players… "Kyle Wiltjer is a lot like Kyle Wiltjer, but stronger."
2:07 — "Comparing this team to (the old team) in March is not fair. Comparing Nerlens Noel to Anthony Davis in March is not fair."
2:08 — Coach Hall is trying to get him to play a 1-3-1. He mentioned playing Nerlens and Willie on the wings of the 1-3-1 zone. Good God.
2:09 — "Whatever we ask our guys, they'll do. We just have to make sure we're asking the right things."
2:10 — On who will be this year's vocal leader… "Maybe Archie." … "We've got a quiet team."
2:12 — When he plays Wiltjer, Nerlens and Willie together, he says he'd have to go zone with Kyle in the middle and the other two on the wings. WOW. Right now that is hard to practice because that leaves him with Brian Long and Jarrod Polson on the other team.
2:14 — On injuries… "Remember Anthony Davis last year at Baylor? I was like, 'Come on, you're good. Get up.' But I was really like, 'Plllleeeeeaaaassssseee get up. Please. I almost had a heart attack."
2:15 — That'll do it for now on the live blog. Time to go to the gym for player interviews. Thanks for following.