Linda Gonzalez clearly reads KSR, in love with Matt Jones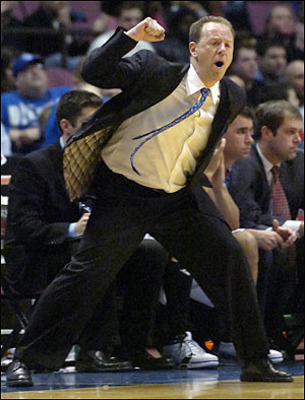 You likely have no clue who Linda Gonzlez is.  Until last week, I had no idea either.  But those who follow the entire sporting landscape so know her husband, Bobby Gonzalez.  The former Seton Hall coach was a notorious hot head who's players basically quit on him.  After getting canned, he then shoplifted something because his million-dollar contract just wasn't enough to actually buy goods.  But the Big Lead came upon a lovely story where Linda Gonzalez called out 10 reporters who she felt were "unfair" to her brother.  And while I think most of you will agree with some reporters the top of the list, let me also say, shut the heck up Linda Gonzalez.  Your brother was a bad coach with a bad record at Seton Hall, who's players got in trouble all the time and then he abused them.  Don't care how "unfair" reporters were to your brother, he is a prick. 
That being said, here are a couple exerts from Gonzalez and her Top 10 list:
1. PETE THAMEL of the NYT  Probably got beat up every day in grammar school for that lazy eye and now wants to take out his personal rejections on the world. Got to love the pictures of him from nonstop.com. Thamel is no more than a low-life domestic word terrorist, with no respect for human life, crawling around on his belly to better bite people in the heel to bring them down. He's making a living at getting basketball coaches fired.  Why? Politics wouldn't have him, too many big words and complex issues.He's made it his mission in life to bring down coaches he doesn't like. He's already cost hundreds of people their living, destroyed the lives of players and players families, and cost states millions of dollars in educational assets. He is unfair, unbalanced, inaccurate, misleading to the point of making things up, a danger to his newspaper and to the public at large. If this were an old wanted list, he would be Baby Face Nelson.  No conscience. His only interest is inspiring widespread hate. Wants fame and blows his own horn every chance he gets. He's exactly the opposite of everything a  reporter should be. Wants to be a TV star too. Partners up with anyone who will boost his self-image. For all that he isn't, he's  #1.
2. PAT FORDE of ESPN   If Pat Forde knew what every basketball coach in America – except Rick Pitino – says about him behind his back, he would never sleep another minute in his life.  #2 Forde is a conflicted, two-faced individual and the worst mistake ESPN has ever made in its history. He helped do a book with Rick Pitino placing him in a conflict of interest state with ESPN. His enemies are whoever Pitino doesn't like and competes against – which is pretty much everybody. Do you know about him, is a question rookie coaches in division one get asked by coaches who have been around. He's one of those cowardly backstabbers who gets his dirt in the dark.
8. DANA O'NEIL of ESPN.com takes #8 O'Neil's admitted absolute heroes are #1 Pete Thamel and #2 Pat Forde on this list. Her daily research is taken from #3 Jeff Goodman and #6 Gary Parrish. It's said, she owes her job at ESPN.com to Pat Forde. For that and all that these dynamics mean, she makes the list. Their enemies are her enemies. And it follows, their work is her work. A pile-on, packer. She's downright good when she does her own work, but those pieces are few and far between. Instead, she relies on all of the gossip, innuendo and outrageous claims on Google and social media to pick up opinions anywhere from anyone. She then takes dirty, below the belt shots to whomever her mentors tell her to hate. O'Neil managed to drop all of her journalistic integrity along the way from newspapering to dot.com. Besides that, she flat out spends way too much time trying to be one of the guys and it's just annoying.
The rest of her Top 10:
3. Jeff Goodman
4. Len Robbins (NY Post)
5. JP Pelzman (Bergan Record)
6. Gary Parrish
7. Mike Francessa (WFAN)
9. Sean Brennan and Eammon Brennan (NY Daily News)
10. Hoops Weiss (NY Daily News)