Let's Remember The Good Times
With Julius Randle's commitment Wednesday, BBN has officially buried the 2012-2013 season and adopted "On To The Next One" as the motto until Big Blue Madness (211 days left). Personally, I don't want to dwell on this season's disappointments- it was bad enough living through them- so here's a pleasant trip down memory lane of each player's best moment of the season:
Julius Mays
With College GameDay in town, Julius Mays wasn't about to let Missouri steal Kentucky's thunder. His mom's only son scored eight points in overtime (including four free throws during the last 33 seconds) and scored 21 out of his 24 points after halftime to lead the Cats to an overtime victory. More importantly, Mays was clutch in the crunch, pulling down the defensive rebound that sent the game to overtime after hitting a three and two free throws in the last few minutes. Mays finished with 24 points (including four 3-pointers), 6 rebounds, and 3 assists to earn himself the Werther's Player of the Game.
Alex Poythress
20 points and 8 rebounds against Duke- yeah, that's NICE. But these four dunks- even better.
Jarrod Polson
Teenage girls across the Commonwealth went wild when Jarrod Polson entered the game against Maryland. The rest of BBN? A little confused, a little concerned. By the end of the game, however, we were all Beliebers (get it? Jarrod Polson looks like Justin Bieber joke? No? Okay). With ten points, Polson surpassed his previous scoring TOTAL in his Kentucky career by three and showed enough heart to get him a leading role in Hoosiers by making the hustle plays. The defining moment of his game came with 7.7 seconds left and the Cats up by a mere one point, as Polson stepped to the line and iced the free throws for a 72-69 lead. As Maryland coach Mark Turgeon said, "We weren't thinking about him. Then he was the key to the whole game." His play earned him the front picture on ESPN's college basketball and the slang term "Marylanding:" "to succeed as an underdog in a high pressure situation despite being from Wilmore; see also, Jarrod Polson vs Maryland in the Barclays Center, playing in front of Jay-Z."
Nerlens Noel
There were so many good games to choose from, and Nerlens' heart and hustle will be the story of this season. However, Noel's crowning moment came against Ole Miss, where he accumulated 12 blocks total, setting a UK single-game record (including the below rejection of Murphy Holloway). Even more impressive? Noel got his last five blocks while playing with four fouls. It was and still is mind-boggling. Damn, I miss him.
Archie Goodwin
The only bright spot of THAT game, amirite?
Ryan Harrow
After sitting the bench to start the Tennessee game, Ryan Harrow met with Coach Cal to ask for his starting job back against Vandy. Cal granted his request, and Harrow delivered, scoring 12 points, 5 rebounds, and 4 assists with 0 turnovers in a 74-70 win. Harrow told reporters, "I feel like I grew up a little bit," and Cats fans thrilled at seeing the potential in the young man with the motivational posters on his walls.
Kyle Wiltjer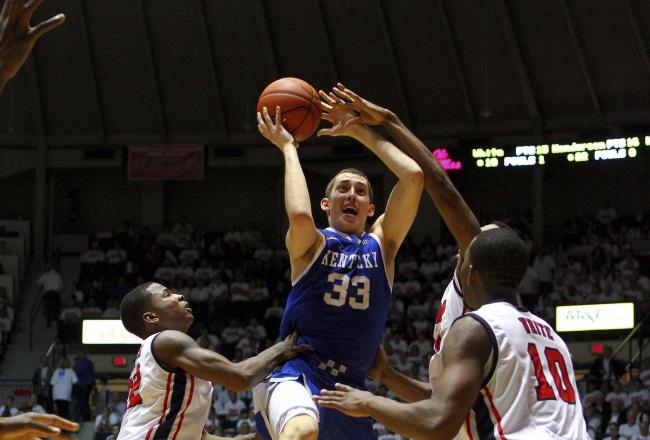 The Ole Miss storyline was already fun, with Marshall Henderson, the Cats needing a road win against a ranked opponent, and the sold out arena. What viewers didm;t necessarily expect was Kyle Wiltjer stepping up for the Cats to score 26 points on 10-19 shooting (5-12 three pointers). The Big YMCA had his three goggles on, to put it mildly.
Willie Cauley-Stein
In the Senior Day rematch against Florida, Willie didn't score the most points, pull down the most rebounds, or dish out the most assists. In fact, he only had six points, the lowest of the starting five. However, his 8 rebounds and 4 blocks were crucial in the Cats' battle- and at a time when the freshman big man was already playing with four fouls, he took a charge, scored a free throw, and grabbed a decisive rebound with 53 seconds left to help Goodwin and Mays seal the game for the Cats. In a game where he and his teammates had to "swim like heck," Willie manned the life boat.
I won't say that I'm going to miss this past season, because that would be a lie and my mom would troll me in the comments section. But hey, when it was fun, it was REALLY fun.
@KristenGeilKSR