Late Wednesday Night Quick Hitters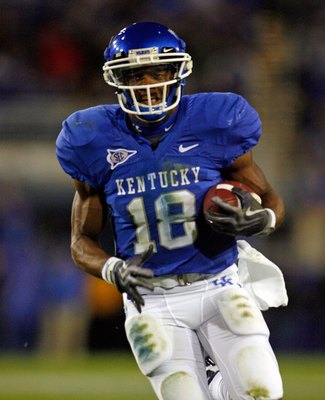 …For Heisman
My sincerest apologies to Robert the Bruce of Scotland, John Wooden, Jim Rome, Joe Girardi, Stephen A. Smith, and the First Gay Rights March in Washington DC… there will be no news and views tonight/this morning. I was curled up in bed with my Operation Win pajamas and my Erin Andrews body pillow when Matt called and asked if I could do the night post. He's up burning the midnight oil in the KSR offices crunching numbers on the Fenerbache sports system and Turkey's GDP. We should have the official numbers sometime after the political announcement. Anyway, you're stuck with me and I'm bringing my absolute best "short notice and extremely tired" night post game.
Let's make this fast. Like, John Wall fastbreak fast…
— Derrick Locke's playing status is still up in the air for Saturday and today Joker Phillips said Moncell Allen could see time at tailback in Locke's place.  "If we have to we will dust off Moncell," Phillips said.  "If needed he will be in there in our one-back offense."  Kentucky also has run options in freshman Raymond Sanders and sophomores Coshick Williams and Donald Russell.  I guess there's that whole Wildcobb phenomenon, too.  My guess: Locke plays.
— Steve Spurrier is 17-0 against Kentucky. This isn't the first you've heard that and it certainly won't be the last.  Just ignore it until we can say Steve Spurrier is 17-1.
— Pete Thamel didn't write an article about Enes Kanter today.  That's good.  He did, however, get called out by a poster on the Cats Pause.  Looks like Thamel needs to get his facts straight.  #FireThamel #FreeEnes
— Good news!!!  Tickets are still available for the Blue/White scrimmage. The annual preseason clash of Kentucky teammates is Tuesday, October 26 at 7:00pm at Rupp Arena.  Go to Ticketmaster.com for tickets and don't even act like you have anything better to do.  C'mon, it's a Tuesday.  See you there.
— There are rumors going around that Tennessee's Scotty Hopson is rocking the Kid 'n Play hi-top fade.  Whatever takes the attention off of his overhyped game.
— Patrick Patterson scored 6 points and grabbed 9 rebounds for Houston tonight.  P-Pat played just over 18 minutes in the 91-81 win over the Nets.
— Good ol' Urban Meyer is back to his forgiving ways again.  Suspended receiver Chris "Time To Die" Rainey is back with the Florida football team after Urban Meyer met with UF's president and athletic director.  I can only imagine what Meyer told them before giving Rainey a second chance.  If it were me, I would've gone with the "he meant to send her time to dine" excuse.  Damn predictive text.
— Gregg Doyel owned Pete Thamel on the radio with Matt and Big EZ this morning.  Check it out below:
That's all I got.  Good night world.  See you in 10 hours.  XOXO