Larry Vaught has sources and they're whispering about Neal Brown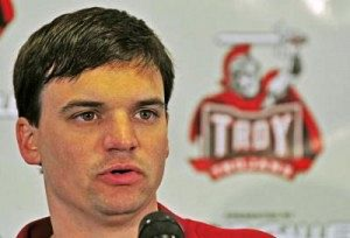 In this morning's edition of "What-Are-Your-Sources-Telling-You," Larry Vaught of Verizon Droid fame is reporting preliminary talks between UK and Neal Brown. Brown, a former wide receiver with the Cats, is in his third season as offensive coordinator at Texas Tech under Tommy Tuberville. According to Vaught, the folks at UK have been talking to Brown's agent, a Birmingham-based attorney.
Brown is a Kentucky boy; he was born in Danville and he's a member of the Boyle County Baseball and Football Hall of Fame.
Sources confirm some preliminary contact between UK and agent for Texas Tech offensive coordinator Neal Brown