Kyrie Irving Speaks About UK's Home Visit and Their Improved Position with the Young Guard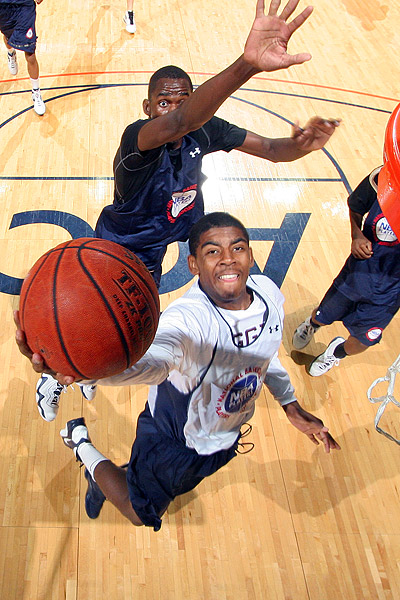 Kentucky was able to move their relationship with Kyrie Irving a step further on Thursday, with Calipari & staff  setting foot in the coach's coveted land of a recruit's living room. With different kids, in-home visits have different meanings. Some are just looking to learn a little more about the staff, while others are just letting the staff introduce themselves to parents or other loved ones. Still other visits are meant to "seal the deal," or tie up loose ends, while setting up later official visit dates or just ending the process with a commitment. With Kyrie, the expectations were pretty simple.
"[During this visit], I just wanted to learn where they were to have me play and if I went there, who would be there. What type of offense they would run."
Different kids also have different connections with a coaching staff that have been built up during the process of months or years of getting to know one another. Irving has a much publicized prior relationship with UK assistant coach Rod Strickland, who also happens to be his godfather. Coach Strickland, who probably felt as much a salesman as he did a family member himself, accompanied Coach Calipari and Coach Antigua on the trip to Jersey, something that had to add to the comfort level of the meeting.
Packing a lot of information into a short window of time is one of the fine arts of the in-home visit. UK's staff was seemingly able to effectively utilize their time in the Irving household by passing along their vision of Kyrie's future at Kentucky.  Giving an overview of what was discussed, Irving explained their talks by saying, "It was just possibilities, like if John Wall left and things like that. Like, if I were to go there, I would be playing either the 1 or 2." Later he added, "Eventually [by the end of the in-home visit] I was able to learn everything."
One topic of their discussion was obviously focused on something that Irving has been very public about, which is his desire to play the point guard position at his eventual school of choice. With Kentucky selling a system with multiple ball handlers, a system in which some might say Irving would sometimes be forced to play the "two guard" role, he doesn't seem to feel that his desire to "run the show" would be hampered.
"In [head coach John Calipari's] system it's all about dribble and drive. Everybody is in attack mode. I don't think he really has relative positions," he explained.
After the visit, Irving seemed pleased with the results and UK may have even improved their status. "I definitely got to know them a little more and it definitely put them higher on my list just from that visit," he said.
But the real question is whether Kentucky is now in the same position as Duke and Indiana, Irving's admitted leaders.
"Yeah they are," he answered, with I'm sure had to be a grin on the other end of the line.
The remainder of Irving's weekend will be filled with a Georgia Tech home visit today, followed by Indiana tomorrow. He also has official visits coming up with Duke the weekend of September 26th, Indiana the weekend of October 3rd and Texas A&M on  the weekend of October 9th. Although UK has yet to finalize a scheduled official visit with Irving, from the looks of how the in home visit went, it would not be too much of a surprise to the young man in Lexington sometime this fall.