KSR's Guide to the Madness: Sunday Night Games
Kentucky's basketball team may be on an unwanted spring break, but we here at KSR still appreciate the madness that is March.With the Sweet 16 looming, you still have time to catch up with our in-depth previews of each region: MIDWEST, EAST, WEST, SOUTH.
The weekend is nearly over, and it's almost time to lay out your clothes for Monday morning, pack your lunch, and get a good night's sleep. But don't worry! There's still a few good hours of basketball left before any of that has to happen. If you aren't around a TV, here's the link to watch all of the games online: MARCH MADNESS LIVE.
(8) North Carolina vs (1) Kansas, 5:15 pm ET (CBS), Kansas City
This is the big one, folks. With Daggum Roy facing off against his former team for a Sweet 16 berth, all eyes will be on Kansas City tomorrow afternoon. UNC has been average all season, and this is basically a home game for the top-seeded Kansas team; however, James Michael McAdoo has been on fire lately and can pull Kansas big man Jeff Withey out of the paint. Plus, let's not forget that Kansas barely survived against the little red team that could, Western Kentucky. Make sure to tune in for this one, folks.
(11) Minnesota vs (3) Florida, 6:10 pm ET (TNT), Austin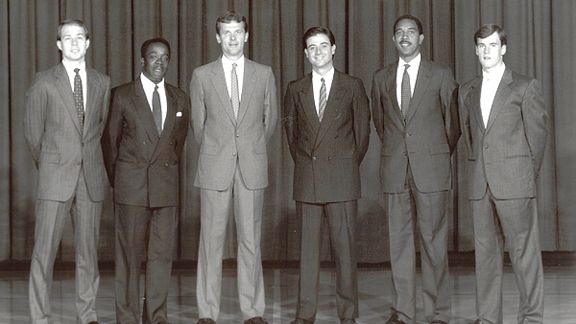 Focus on the right half of this picture…
Ah, a throwback to the SEC days! Tubby Smith and Billy Donovan have competed head-to-head many times as coaches at Georgia/Kentucky and Florida, and they get to renew the rivalry once again tonight. Minnesota is a classic Tubby team- tough on defense and unselfish on offense- and will play a physical style around the basket (spearheaded by Trevor Mbakwe) while relying on Andre Hollins for his outside shot. Florida's Eric Murphy and Patric Young will work to contain Mbakwe. However, if we're being realistic here, Minnesota beat a UCLA team that was missing some key players and had a coach already on his way out. Florida should handle them easily.
(15) Florida Gulf Coast vs (7) San Diego State, 7:10 pm ET (TBS), Philadelphia
Previously, Florida Gulf Coast University was known for… well, nothing really. Now, we know them as the home of white boy dunk artist Chase Fieler; employer of Andy Enfield, who nabbed the hottest wife college basketball has seen in a hot minute; and the Cinderella story of the 2013 NCAA Tournament. Oh, and their dorms are f—in awesome. Basketball wise? Sherwood Brown (Atlantic Sun Player of the Year) led the Eagles against Georgetown with 24 points, and San Diego State is trying to make the Sweet 16 for the second time in three years. Men want to keep seeing Enfield's wife, and A Cinderella Story is my favorite movie, so go Eagles.
(13) La Salle vs (12) Ole Miss, 7:40 pm ET (truTV), Kansas City
Marshall Henderson, post-Wisconsin win, at a bar; however, Ole Miss spokespeople say he was just out to dinner with the rest of the team. Uh-huh.
AKA Let's Watch Marshall Henderson Shoot. As LeBron so eloquently put it, Henderson has "the greenest light" in college basketball. LaSalle's Ramon Galloway will probably draw the Henderson defensive assignment, and the game will be LaSalle's third in five days, making fatigue an issue for the Explorers (awesome team mascot). Expect a quick pace, as LaSalle plays with four guards and Marshall Henderson, like Miley Cyrus, just can't be tamed. This should be a fun one.
(7) Illinois vs (2) Miami (FL), 8:40 pm (TNT), Austin
Illinois has had a pretty good season, with wins over Gonzaga, Indiana, and Butler to offset a weird loss at Northwestern. Miami, one of the hottest teams this season, has a veteran team playing with star point guard Shane Larkin, along with a huge size advantage (four players in the Hurricanes' rotation are 6'10" or taller). The Hurricanes' physical defensive play is a bad matchup for Illinois, who live and die by the three. Miami should have this one.
(7) Creighton vs (2) Duke, 9:40 pm ET (TBS), Philadelphia
QUICK! Which guys play for Duke?
AKA the game in which casual basketball fans get confused and assume Doug McDermott plays for Duke. McDermott carries the offensive load for the Bluejays, with only Gregory Echenicque to add 10 points and 6.6 rebounds per game, and if Ryan Kelly can contain McDermott, the Dukies should (unfortunately) run away with this.
Grab some popcorn and get comfortable, guys. We've got a great few hours of basketball ahead of us.
@KristenGeilKSR