KSR's College Football Movie Countdown: Undefeated
Mrs. Tyler has a tradition where she will watch as many football movies as she can in the week leading up to the first game. Well instead of letting her have all the fun I decided to join in on the festivities myself and watched myself a football movie. You should too. My Pick: Undefeated
UNDEFEATED (2011)
Starring: Bill Courtney, O.C. Brown, Montrail 'Money' Brown
Short and insufficient plot summary: A North Memphis program with almost no tradition journeys to win the first playoff game in the one hundred year history of the school.
Why It Made The List: If the great film Hoop Dreams and the majority of the 30 for 30 pictures have taught us anything it is that documentaries and sports are a match made in cinema heaven. Last year's Academy Award Winner for Best Documentary, Undefeated, will most likely be viewed as the football version of Hoop Dreams. A film that every aspiring athlete watches for firm proof that sports are a tangible way to make your dreams become a reality.
Like our own Kentucky Wildcats the football team at Manassas High School in Memphis has been a perennial punching bag of the schools they face every year. However with the arrival of Coach Bill Courtney six years prior things have been on the rise for the embattled program and now a talented group of seniors looks to lead the school to the first playoff win in school history. Along the way the players and coaches must overcome adversity both on the field and off in order to learn what it truly means to have character.
A great documentary should do three things: 1. Make You Laugh 2. Make You Cry 3. Give You Something To Remember. Undefeated is a triumph in all three categories. From the first frame on you'll be pulling for these kids and the coach to overcome. You'll see directly how the games we watch for entertainment can truly impact a young man's life. It's a wonderfully made film about real people and real problems. One that could appear again on this this when the fictionalized version rolls into theaters in the next few years.
Character comparisons:
Mark Stoops as Coach Courtney
Both men could easily be described as a chubby charismatic red head tasked with turning around a team with limited resources, tradition, and talent. Hopefully Stoops will be able to find similar success to the building job Courtney pulled with less than what Stoops has to work with. That one was almost too easy.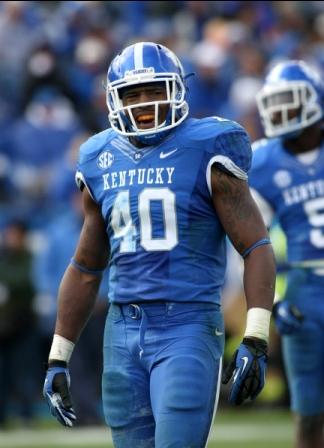 Avery Williamson as O.C. Brown
O.C. Brown is the senior leader of the Manassas Tigers with hopes of playing at the next level. Avery Williamson is our senior linebacker with NFL aspirations. No word yet if Avery will be making other players look like small children this season as he takes the field.
Fun fact: The movie was rejected by the Sundance festival in 2012, however after generating buzz at the South By Southwest Festival in Austin it was bought for distribution and went on to win the Oscar for Best Documentary.
Best line: "Its a further testament to doing the right thing, you'll be shocked at what'll happen to your life if you stay right" -Coach Courtney before one of the most emotional scenes ever put on celluloid.
College football excitement ranking: I'd give it a solid 6. The movie when you boil it down isn't so much about the game of Football as it is about sports and their impact on the people that play the game. After watching it I'm fired up to watch similar storylines play out in our own state and on the field at UK.