Know Your Friend: Wichita State Shockers
Normally on a Friday night, we spend time "Getting to Know Our Enemy." As we all know, thanks to Bobby Morris, we will have to wait approximately 6-7 more months before we get to know another Saturday  enemy during basketball season. Louisville and Indiana, two of our biggest rivals, were both considered major contenders for this year's NCAA championship. With the Hoosiers bowing out, we still need someone to beat Louisville. Many of us rallied around the Cardinals in a one-game scenario following the horrific injury to Kevin Ware. Let's get back to our roots now and re-group. It's time for someone to knock off the Cards. For the next 24 hours, we turn our attention to the Shockers of Wichita State. Will the clock strike midnight for Cinderella or do the Shockers have one more big surprise in store for the world?
Location: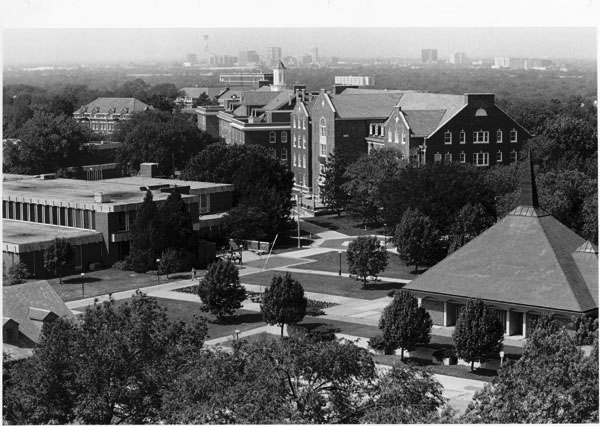 Wichita State University is located in Wichita, Kansas. Shocker, huh? Wichita is the largest city in the state of Kansas with a population of 384,445. Wichita is located in the south-central part of Kansas, which means it's just south and east and west of other rather non-descript Kansas towns much like it. According to Wikipedia, Wichita is home to many night clubs. I don't believe it, but I'm certainly not going to travel across the midwest to investigate. Night clubs or no night clubs, Money Magazine rated Wichita the 9th best U.S. big city to live in. In 2008, MSN Real Estate ranked Wichita the most affordable city in the United States. So…no cover charge at these night clubs? Road trip to Wichita might be back on… Wichita is also home to the first ever Pizza Hut. Did anyone else spend many Friday nights of their childhood celebrating their "Book It" accomplishment with a free Personal Pan Pizza at Pizza Hut? Just me? Okay, cool.
Fun fact: There is an NAIA university in Wichita Kansas called Friends University. The mascot is the Falcons, although I argue that it should have been the Marcels.
Notable Alumni/People of Interest loosely associated with the school:
Randy  "Joe" Jackson
Jackson was 1 of the survivors from the 1970 Wichita State University Football plane crash. The plane was one of a two-plane flight carrying the Wichita State football team to Logan, Utah for a game with Utah State. The plane was carrying 36 passengers. The crash produced 29 casualties on the scene, while 2 others died later due to injuries. The plane crash occurred just 2 months prior to the much more well-known Marshall University crash.  Jackson went on to play in the NFL for a variety of teams including the Bills, the 49ers and the Eagles.
Wichita State no longer has a football program.
Andrew Wiggins' brother
When your brother is the #1 recruit in the 2013 recruiting class (while being compared to LeBron James), and he's looking at Kentucky– Kentucky fans are far more likely to know you as "Andrew Wiggins'" brother than Nick Wiggins. Nick Wiggins is a member of the current Final Four Wichita State men's basketball team. The 6'6 junior has been an important piece off the bench for the Shockers in this year's post-season run. Wiggins is averaging 13.1 minutes per game, while chipping in 5 points per game. The elder Wiggins has become an interesting piece to the younger Wiggins' recruitment. The spotlight of the Final Four coupled with the fact that his brother has yet to make a decision, has produced a number of questions to NIck Wiggins in regards to his brother. Andrew Wiggins has been very close lipped about his recruitment, while Nick has been a bit more candid. Just today he slowed a bit on his endorsement for his brother to attend Kentucky, now saying that he might be better off making his "legacy" somewhere else.
Kirstie Alley….Wait, what? Kirstie Alley? 
Kirstie Alley was pictured celebrating the Final Four berth with the Shockers in the locker room. Apparently Kirstie Alley has a home in Wichita, Kansas (the city where she was born). Alley was never better than her role in Look Who's Talking Now. If Wikipedia is accurate, than she was never worse than when she dated (and apparently married) a distant cousin named Bob Alley in high school. There's never enough distance for that. Never. The two apparently divorced due to their "career paths diverging." Or not enough diverging of DNA. Your call.
Dance Team/Cheerleading Team Scouting Report:
Mascot Watch: 
Yes, the mascot is an angry stalk of wheat named "WuShock."
Basketball History:
The Shockers are current members of the Missouri Valley Conference. The program has made 10 NCAA tournament appearances, resulting in two trips to the Final Four (2013 and 1965). The combined NCAA tournament record over the years for the Shockers is 12-10. The Shockers have a strong basketball fan base, averaging 10,391 fans per game in an arena that only holds 10,572. The attendance mark ranked 38th nationally in 2012. The school was previously known as Fairmount College and first took the floor in 1906. The mascot at the time was the "Wheatshocker."
Coach:
Gregg Marshall, 50, is currently in his sixth season as the head coach of the Shockers. Marshall previously coached at Winthrop for 9 seasons. In Marshall's first season at Wichita State, the team went 11-20 before breaking even at .500 in his second season. This season, the Shockers were dealing with the departure of 5 of the top 6 scorers from the previous year's NCAA tournament team. The Shockers were picked to finish 4th in the Missouri Valley Conference.
Players:
Rob Dauster of NBC Sports had a great article today about Gregg Marshall and his "Merry Band of Misfits." There is very little conventional about the make-up of this Final 4 team from Wichita State. There's Ron Baker, who comes from a small town in Scott City, Kansas. Baker describes the population as "about 280 people." There's Carl Hall, the 24-year old starting forward who suffers from a heart condition. According to Dauster's article, Hall stepped away from the game, opting to work the graveyard shift at a lighting company. With his medication finally starting to work enough to allow him to play again, Hall wound up at Wichita State. "There's a bunch of crazy men on this team," described Baker, speaking of his love for his misfit group of teammates.
Summary/Prediction: If you only listened to Rick Pitino, the spinner of all spinners, you would believe that this Wichita State team has a very similar make-up to the NBA's Miami Heat. While Wichita State has come up with a formula to create NCAA tournament success with this group of players, the Cardinals have to be considered the heavy favorite against the #9 seeded Shockers. Wichita State lives and dies by its ability to out-rebound the opponent, all the while living up to the motto of "Play Angry." While I expect this one to be close early, I don't think the Shockers have what it takes to stay with the Cards from start to finish. Luckily the Shockers have all those great and really affordable night clubs in Wichita, Kansas to go back to…
Louisville wins 78-63.