Know Your Friend: Oregon Ducks
Normally on a Friday night, we spend time "Getting to Know Our Enemy." As we all know, thanks to Bobby Morris, we will have to wait approximately 6-7 more months before we get to know another Saturday  enemy during basketball season. Last night we found ourselves in a "one down, one to go" situation after Indiana lost to Syracuse in the Sweet 16. Louisville and Indiana, two of our biggest rivals, were both considered major contenders for this year's NCAA championship. With the Hoosiers bowing out, now someone just needs to beat Louisville. Matt talked about it last night… Sure, we can try to be the "bigger person" and be happy for Louisville, even rooting for another team from Kentucky to win. For me though, the only thing worse than a Louisville fan is someone who is either a) a fan of both schools or b) the type of person who "roots for Louisville when they aren't playing Kentucky. If you're going to wear a flat bill, wear a flat bill. Don't try to bend it a little bit. Don't take the price tag off of it. Be all in one way or the other. For that reason, someone needs to beat Louisville. Maybe it will be Oregon. Maybe it will be Duke (it's weird when Duke becomes the lesser of 3 evils) or Michigan State. Maybe it will be Kansas or the Florida state champion. For tonight though, we turn our attention to Oregon. Let's get to know our friend… Go get em', Ducks.
Location:
Eugene, Oregon is the birthplace of Nike. Nike's biggest contribution to the world besides tons of apparel was an awesome haircut that became popular in the 1990s.
If Jenny and Forest were like peas and carrots, than so were Nike check haircuts and Starter jackets. Thank you for that, Eugene (indirectly). Eugene, Oregon is also known as "Track Town, USA." The city has played host to the 2008 and 2012 Olympic Team Trials. Steve Prefontaine was perhaps one of the most famous runners to grace the city, and as a result, every cross country and track team in the country uses Prefontaine's quote "To give anything less than the best is to sacrifice the gift" on the back of their team t-shirts. If you've seen a team with a different quote on the back of the shirt, I don't even believe you.
In addition to Nike, Oregon's campus was used to film the 1978 cult classic Animal House. 
Notable Alumni/People of Interest loosely or closely related to Oregon and/or Ducks:
Rich Brooks— Papa Brooks was the head coach of the University of Oregon's football team from 1977-1994. Almost 10 years later, he made Lexington his final stop as a football coach before riding off into the sunset of retirement. No one tweets about tomatoes like Rich Brooks tweets about tomatoes.  No one else tweets about tomatoes. No one.
Charlie Conway– For the male KSR readers, I give you the Dance Team Scouting Report listed below. For the female KSR readers who grew up in the 1990s, I give you Charlie Conway. Conway was the underdog on the "District 5" pewee hockey team that Gordon Bombay inherited in the movie The Mighty Ducks. Although Conway had some major daddy issues, he didn't let that stop him from successfully completing the "triple deke."  Goldberg, you're the goalie. It's supposed to hit you. 
Ken Kesey– Kesey is the author of the book "One Flew Over the Cuckoo's Nest." Ken Kesey did a lot of admirable and notable things in his life. Purchasing and then wearing the shirt he is pictured in above was not one of them. Neither was this sweater:
Dance Team Scouting Report:
Basketball History:
Oregon won the first ever NCAA men's basketball national championship in 1939. Oregon brought its 1939 NCAA tournament trophy with them to tonight's game against Louisville as inspiration. Hey, whatever it takes. The last time Oregon made the Elite 8 was in 2007. That was only the 4th time in the school's history that the Ducks made it that far. Oregon has only been in the NCAA tournament 10 total times in the history of the basketball program. The Ducks did win the 2011 CBI championship. No word on whether or not the Ducks brought along that trophy as well.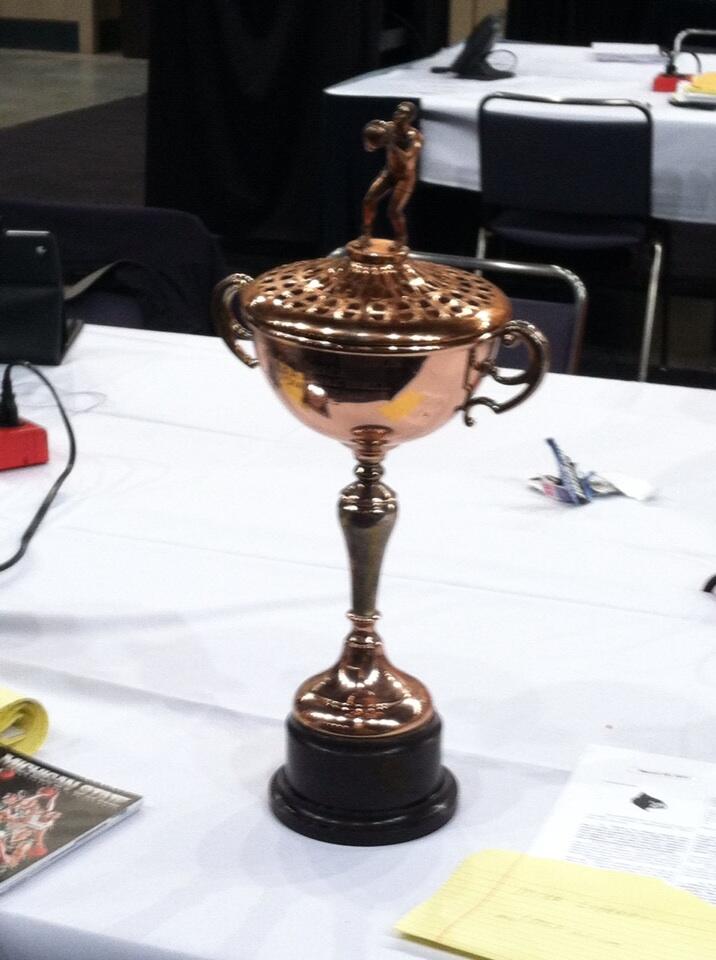 (h/t Tim Sullivan)
Coach:
Dana Altman– Altman was the head coach at Creighton for 16 years before signing on with the Ducks. Altman coached for 4 years at Kansas State before that. His total record in 24 seasons as a Division I head coach is 483-279 (.634). Altman is in his 3rd year as the head coach of the Oregon Ducks, and this season marks his first trip to the NCAA tournament.
Uniform Watch:
Well, we all know this isn't accurate Wikipedia…
Players: The most familiar name on the roster might be Arsalen Kazemi, who was at one time considered to be in the mix for Kentucky's roster this season. Kazemi is a 6'7 forward who transfered after 3 seasons at Rice. In 3 seasons at Rice, Kazemi averaged 12.6 points and 10.1 rebounds. For the Ducks this season, Kazemi has played very well, averaging 9.3 points and 9.9 rebounds per game. Don't think too hard about what might have been if Kazemi had been on the Kentucky roster this season. In general, the Ducks are very balanced offensively with 6 players averaging between 8-12 points per game. Another blast from the past on Oregon's roster is Tony Woods (9.1 ppg), the former Wake Forest transfer. Woods and Kentucky reportedly had mutual interest at one point, but Woods left Wake Forest in the aftermath of some controversial personal issues. Many believed that the spotlight at Kentucky might have been tough for Woods to handle.
Summary:  Although many believe that Oregon was shafted when they received the 12th seed in the NCAA tournament, the Ducks appear to be overmatched coming into the game with the Cardinals. Oregon has been known to turn the ball over this season and that doesn't bode well for the Ducks against a Louisville team that loves to put tremendous defensive pressure on the opposing team. If Oregon wants any chance to stay in this game, the Ducks will have to find a way to keep the number of turnovers on the night low. And if that doesn't work, try the triple-deke.
Prediction: Louisville wins 79-64.