Kentucky may not win the war, but they can win a battle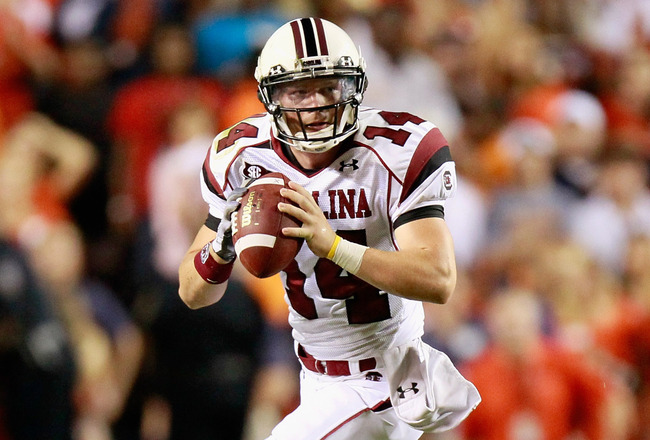 (Kevin C. Cox/Getty Images)
Being completely honest, Kentucky has very little chance to win this evening against South Carolina. The Cats are a three touchdown underdog on their own field. The Gamecocks are one of the hottest teams in college football with two of the more dynamic playmakers on either side of the ball in running back Marcus Lattimore and defensive end Jadeveon Clowney.
The score may not favor the home team by the final whistle, but there is one thing the Cats can do from the get-go to spoil what may otherwise be a perfect night for USC.
Gamecocks quarterback Connor Shaw is on a streak of perfection. Last week against Missouri, Shaw completed 20 consecutive passes. He missed on his first pass of the game and then reeled off 20 straight, going 20-for-21 with 249 yards and two touchdowns. His streak set a school record and tied an all-time SEC record that hasn't been matched in 30 years.
Shaw's 20 straight passes ties him with Kent Austin of Ole Miss who competed 20 straight passes without an incompletion against Kentucky in 1982.
The last time Shaw faced Kentucky he completed 26-of-39 passes for a career-high 311 yards and four touchdowns. While he may still put up gaudy numbers, the Cats just need to knock down his first pass of the game, and we have ourselves a small, meaningless, insignificant victory.
#WeAreUK