Kentucky made Deadspin's College ShameDay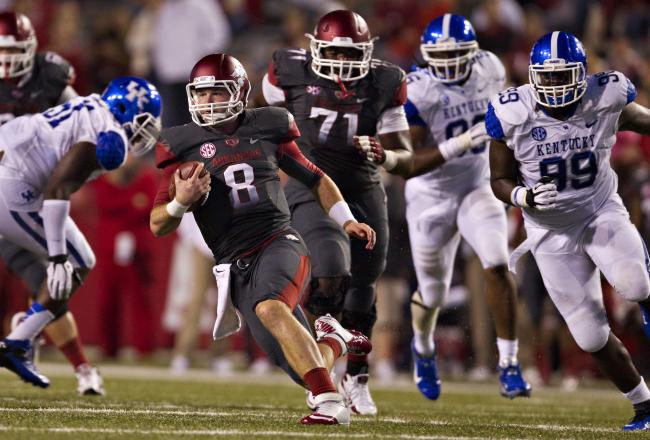 I read Deadspin's College ShameDay every Monday, expecting to find Kentucky on the list of college football teams that embarrassed themselves. This week, your University of Kentucky Wildcats finally made an appearance, thanks to that 49-7 stomping in the rain down in Fayetteville.
Here's what Deadspin had to say:
Arkansas 49, Kentucky 7: It's kind of amazing we've gone this long without talking about Kentucky, the team so bad Nature couldn't stand to watch anymore. The Wildcats got early dismissal against the Razorbacks with a third of the game left. What had they done with the previous two-thirds?

— Allowed Arkansas to rack up 161 rushing yards and 533 total yards, both near season highs

— Forced zero turnovers against an offense that had given the ball away at least two times in all of its previous games

— Secured the longest Kentucky losing streak since 2004

All without even needing to play the last 20 minutes, because if you're going to fail, at least fail efficiently.

From 2005 to 2010, the Wildcats have won at least two conference games a season, and they'll need to split their last four games against Georgia, Missouri, Vanderbilt, and Tennessee to keep that mostly sad pattern of achievement alive. Fortunately, they're armed with a defense ranked next to last in the nation in third-down conversions and passing-completion allowed. (It's possible that I don't know what the word "fortunately" means because I'm a product of Florida's public school system.)
Now let's try to forget that game ever happened.