Kentucky Graduate Wishes Bledsoe And Orton Had Stayed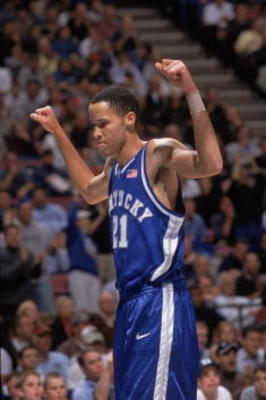 Being one of the two biggest Kentucky names in the NBA (before next season,) Tayshaun Prince is often looked to as one of the best representatives of Kentucky Basketball. Not content to just be a star, Tayshaun graduated from the University, found a home in the NBA, won a ring, and is to this day a somewhat vocal supporter of our Kentucky Wildcats.  What's not to like?  But just like every fan, he has his opinions on everything from how the players should be dieting, to who should be on the roster next year.
Alan Cutler had a chance to sit down with Prince recently, and he had this to say.
"Yeah, it blew me away, but at the same time I'm pretty sure that everybody knew where Wall and Cousins were going to be selected and everybody knew Patterson was going to be anywhere between 13 and 17.  But the other two guys, I think it is a scenario that you are proud for them and you are happy for them, but if you are like me and the rest of the Kentucky fans you would like for them to come back for another year and being able to help us get better next season."
It's interesting, because it's rare that you hear unabashed homerism from a public figure outside of Matt Jones.  Still, Tayshaun expresses a sentiment that many of us feel about early departures.  We are happy they are getting their chance to follow their dreams… but our selfish sides wish we could cheer for them in Lexington just a bit longer.  Check out the full article where Tay Tay talks about his season, his fandom, and his prediction for the future of the program.