Kentucky 47, Everyone Else 162
If Jalen Rose was in charge, the McDonald's All-American game would have been renamed the John Calipari Invitational, and the Kentucky commitments proved Rose right with their performance today. Although the game was a typical All-Star game with more offense than defense and ending in a slew of missed dunks, the Kentucky players proved on a national stage why they're already being heralded as the best recruiting class in college basketball, ever. The West (Harrisons, Lee, Young) team beat the East (Johnson and Randle) by a score of 110-99. Here's what went down at the glorified Blue-White scrimmage.
-If tonight was an informercial for Kentucky, anyone watching is buying in. Together, the six UK commitments scored 47 points, or 22% of the points scored tonight.- impressive, considering they make up approximately 24% of this year's McD's All-American class. And that's without Wiggins' 19 points. Right from the get-go, the Cats made their presence known, with the Harrison twins and Dakari Johnson scoring three of the first four baskets. During one stretch in the second half, there were consecutive scores by a Harrison, Julius Randle, and Julius Randle again. Get used to hearing announcing calls like that.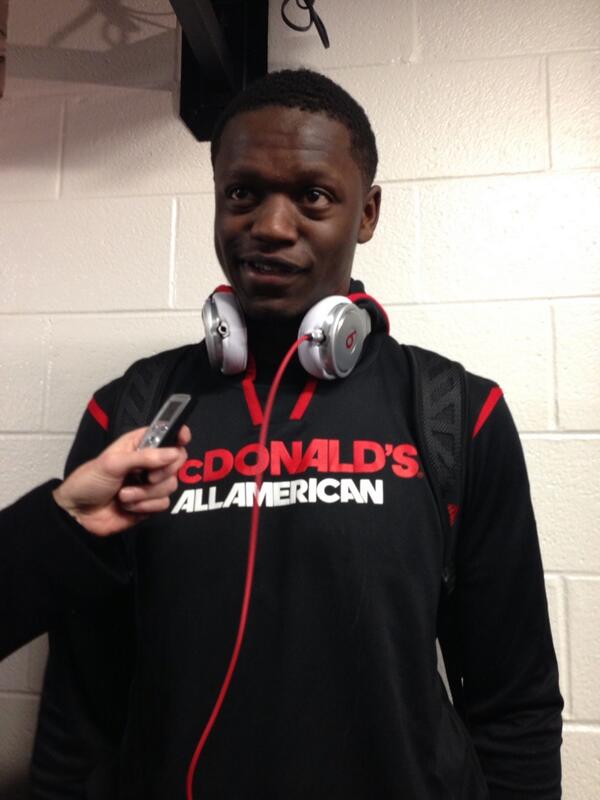 -Speaking of Randle, the Texan was easily the most impressive of the Kentucky recruits. With 11 points and 7 rebounds, Randle was the bright spot in a somewhat lackluster All-Star game. "I didn't do too bad," Randle grinned after the game. His athleticism showed on both ends of the court, and his aggressive rebounding will anchor the front court next season. Kentucky fans should be excited about the intensity he brings to the floor- and judging by how Randle spoke about how this week prepared him for "having a target on my back" next season, he's ready for it.
-A close second for Kentucky MVP, or at least Most Improved, has to go to Dakari Johnson. Johnson tends to be near the end of the list when rattling off our freshmen next year, but he's developed by leaps and bounds in the short time since he's become a Cat. Johnson was consistent on the offensive end, scoring 12 points to go with five rebounds, and showed off his ability to get up and down the court and play a surprisingly light style for a big guy.
-The Harrison twins combined for nine assists and five rebounds, backing up Aaron Gordon's assessment that they are "really tough guards. When it comes down to crunch time you want them on your side." Aaron (the shooting guard, remember!) scored six points, while Andrew had ten. Both showed a firm grasp on the dribble drive, and the consensus from players post-game was that both Harrisons were great distributors who bettered the players around them. Looks like we can add them to the long list of dominant Calipari point guards.
-After a quiet first half, James Young perked up, ending with six points, two steals, and an assist. His ability to convert twisting, athletic layups may remind fans of a more polished Archie Goodwin- and how many times did we wish for that last season? Like his teammates, Young is ready to work once he gets on campus, saying "I love grinding" (I'm pretty sure he was talking about basketball, not middle school dances). He also felt that the McD's experience helped the Kentucky boys get a head start on their chemistry classes: "It just made us a little bit more of a team off the court. It's going to help us a lot next year."
-Young also summed up why Andrew Wiggins should go to Kentucky in one sentence: "More great players, easier to win a national championship." Someone get the dude a Staples button, because that was easy.
–Marcus Lee and his fro-hawk had a quiet game tonight, with two points, two rebounds, one block, and one assist. However, no need for alarm- that's just the nature of these crowded All-Star games. Not everyone can shine, and Lee has shown plenty of promise in the practices this week to compete for playing time next year.
-If you want something to bitch/prematurely worry about, here it is: three point shooting. While shooting was abysmal overall (7-39), the Kentucky guys were especially rough around the edges, with only Aaron (0-3) and Young (0-1) attempting shots . Even Wiggins was 0-2. Ah, well, we needed something to aspire towards anyway.
-Outside of Kentucky players, get used to seeing game MVP Aaron Gordon on SportsCenter next year. Kid can dunk, to put it mildly. The new West Coast Wildcat ended with 24 points and 8 rebounds, including a handful of Blake Griffin-esque throw downs.
-The game may have taken place six hours from Lexington, but BBN made their presence known. Signs abounded and blue was scattered throughout the crowd of over 15,000. Randle mentioned he could hear the "Go Big Blue!" chants from the floor, repeating his statement from yesterday that "our fans are crazy." Hear that? Cal speak already! He IS a Kentucky player!
-And finally, the Matt Jones who played in that game is not the Matt Jones who runs this site. But you probably (hopefully) knew that already.
To paraphrase what Tyler Thompson said on the live blog, this game felt like a November exhibition game in both crowd atmosphere and on-court play. Sure, it may have been a little slow at times, but the experience will serve our players well once they arrive on campus in June. BBN, we've barely seen the tip of the iceberg when it comes to this team's potential. I think I speak for everyone when I say "We want more. We want more. Like- you really like it. You want more."
Bring on 2013.
@KristenGeilKSR