John Calipari Update thread
***NOTE: As difficult as it is to access the site, it's ten times harder to get to the admin screens and update. So, for today, in an effort to get the most updated info up as fast as possible, WE WILL JUST UPDATE THIS THREAD RATHER THAN PUTTING UP NEW POSTS. Hopefully this will make it easier to get what you need faster.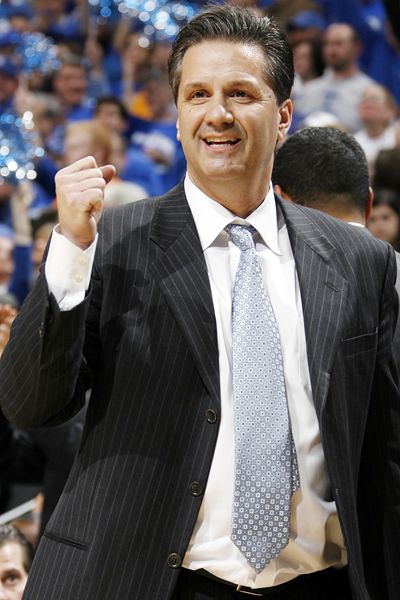 – DeMarcus Cousins says the Calipari to UK talk is "not true"
 – Another potential holdup in the announcement could be because Calipari wants to try to get former assistant Tony Barbee to be his replacement.
 – Listen to John Clay on 680 The Fan in Atlanta (4:30 pm)
 – Larry Vaught said it's a done deal over at Kentucky Sports Report
 – Bozich says it's "all systems go" with Calipari but an announcement won't come until tomorrow or as late as Thursday
 – Jody Demling says top 50 guard Nolan Dennis could also try to follow Calipari
 – The Memphis Rivals site calls it a done deal and multiple sources say Memphis has asked for permission to speak with Mike Anderson of Missouri
 – John Clay says there has been a 4:30 pm  meeting called for the UK players.
 – Jerry Tipton says it's nearing completion, but one potential issue could be whether or not scholarship offers to players in the 2010 class and beyond would be honored.
 – Why is the font so small?
 – The sheer volume of fans taking it to the internet today is unbelievable.  We are getting 11-12 thousand connections a minute, Cats Pause has been blowing up all day with posts and John Clay just posted that his blog is down.  UK fans are either passionate or completely insane…or both.
 – In the spirit of this blog, take a look at the ridiculous side of the Calipari situation….ok, it's all pretty ridiculous right now.
 – John Clay is saying Calipari might inform Memphis of his departure at 3:30 pm meeting
 – Matt was told to expect to hear something by 4 pm
– The offer to Calipari is rumored to be for $6 million a year.
 – If you're in the "ESPN hates us" camp, here's another chance to bow up over The Worldwide Leader's front page story about UK's coaching change
 – Kentucky officially given permission to speak with Calipari this afternoon
– Bozich talks to Calipari buddy "Worldwide Wes" who told him "What's going to happen is going to be monumental for college basketball. It's going to be exciting. It's going to be great." Bozich also said he's heard that Wall and Cousins might not be too far behind.
– Jerry Tipton was on Sportscenter and said he expects it to happen today and then something about how no matter who the coach is, he will fall short in one aspect of his job inthe fans eyes.
– Andy Katz just said he expects this to be resolved within 24 hours and if Calipari decides to stay at Memphis, UK will likely turn to Travis Ford
The story also says that Memphis is prepared to make him the highest paid coach in college basketball.