John Calipari had a busy weekend in the Big Apple John Calipari had a very, very busy weekend as he made the most of the three-day evaluation period that began last Friday and concluded on Sunday. Calipari and his assistants were in New York for the Under Armour Association and Nike EYBL events, the kick-off to live recruiting in 2016.
It was tough to keep track of Cal throughout the weekend, but here is a pretty accurate timeline of events, tracked via the bug we placed in his Salvatore Ferragamo loafers.
FRIDAY
— 6:00 pm —
Under Armour: Indy Hoosiers vs. Canada Elite
This past weekend's action began Friday evening with Cal in attendance to watch a pair of Indy Hoosiers; Kris Wilkes and Paul Scruggs. Wilkes and Scruggs combined for 31 of Indy's 48 points in a losing effort to Canada Elite, with Wilkes' 24 leading all scorers.
Kris Wilkes
Small Forward | 6-7 | 190 lbs.
Indianapolis, IN | North Central
★★★★★
ESPN
No. 27 | 7 SF
Top247
No. 17 | 4 SF
Rivals
No. 12
Scout
No. 13 | 3 SF
Paul Scruggs
Point Guard/Shooting Guard | 6-4 | 200 lbs.
Indianapolis, IN | Southport
★★★★
ESPN
No. 36 | 7 SG
Top247
No. 16 | 2 PG
Rivals
No. 32
Scout
No. 28 | 6 SG
Wilkes attended Big Blue Madness last fall in Lexington. Scruggs' most recent visit to UK was back in January of this year.
SATURDAY
— 6:45 am —
"Fox and Friends"
Cal's Saturday got off to an early start when he made a special guest appearance on the Fox & Friends morning show to discuss the one-and-done rule, his program's Academic Progress Rate and his outlook on life. He told the show's hosts, "I don't feel like I've ever worked a day in my life. I love what I'm doing. If you make it about other people, life becomes easier."
— 8:00 am —
Nike EYBL: Mokan Elite vs. Spiece Indy Heat
The recruiting action got underway Saturday morning with the first game at the EYBL event in Brooklyn, where Calipari watched Trae Young, one of the top point guards in the class, and his Mokan Elite teammate, Michael Porter Jr.
Trae Young
Point Guard | 6-1 | 170 lbs.
Norman, OK | Norman North
★★★★★
ESPN
No. 20 | 2 PG
Top247
No. 26 | 4 PG
Rivals
No. 13
Scout
No. 26 | 3 PG
Michael Porter Jr.
Small Forward | 6-9 | 215 lbs.
Columbia, MO| Father Tolton Catholic
★★★★★
ESPN
No. 3 | 1 SF
Top247
No. 4 | 1 SF
Rivals
No. 2 | 1 SF
Scout
No. 5 | 1 SF
Young and Porter were each outstanding in Mokan's 81-62 win. Porter led the way with 21 points and seven rebounds to Young's 19 points, six assists, five rebounds and eight turnovers.
— 9:30 am —
Nike EYBL: The Family vs. Expressions
Nike EYBL: WACG All-Stars vs. E1T1
Up next on Calipari's schedule was a glimpse at five-star center Nick Richards from St. Patrick's, the same New Jersey high school that produced Michael Kidd-Gilchrist and Dakari Johnson.
Nick Richards
Center | 6-11 | 235 lbs.
Manhasset, NY | St. Patrick's
★★★★★
ESPN
No. 12 | 3 C
Top247
No. 21 | 2 C
Rivals
No. 19
Scout
No. 20 | 8 C
The big man, considered an early UK lean by some, had 11 points, six rebounds and four blocks with Calipari and Tony Barbee looking on in the Expressions' 68-51 win.
Also during the 9:30 am slate of games, Calipari popped in to see five-star shooting guard John Petty against five-star small forward Kevin Knox. Petty had a rough one in front of Calipari, connecting on only three of his 11 shot attempts for nine points in the game. He was the fifth leading scorer on his team in a loss.
John Petty
Shooting Guard/Small Forward | 6-7 | 180 lbs.
Huntsville, AL | J.O. Johnson
★★★★★
ESPN
No. 10 | 1 SG
Top247
No. 23 | 6 SF
Rivals
No. 17
Scout
No. 19 | 3 SG
Petty is my pick to become the first member of Calipari's 2017 recruiting class. Cal is visiting him again today.
Knox played very well, scoring 25 points on 9-of-13 shooting from the field.
Kevin Knox
Small Forward | 6-8 | 195 lbs.
Tampa, FL | Tampa Catholic
★★★★★
ESPN
No. 6 | 2 SF
Top247
No. 7 | 2 SF
Rivals
No. 7
Scout
No. 6 | 2 SF
Many have Duke favored for Knox in the early stages of his recruitment.
— 11:00 am —
Nike EYBL: Phoenix Phamily vs. RM5
Calipari stuck around the EYBL for the third set of Saturday morning games, this time to watch Marvin Bagley of Phoenix Phamily. Bagley is the consensus No. 1 overall player in the 2018 recruiting class.
Marvin Bagley
Power Forward | 6-10 | 200 lbs.
Phoenix, AZ | Sierra Canyon
★★★★★ (2018 Class)
ESPN
No. 1 | 1 PF
Top247
No. 1 | 1 PF
Rivals
No. 1 | 1 PF
Scout
No. 1 | 1 PF
Bagley had 21 points on 7-of-11 shooting in the win.
— 2:00 pm —
Nike EYBL: California Supreme vs. PSA Cardinals
The next John Calipari sighting came at the Nike event's 2:00 pm game that featured DeAndre Ayton, the best player in high school basketball, against Mohamed Bamba, the second best player in high school basketball.
Devin Booker joined Cal courtside for the weekend's main event.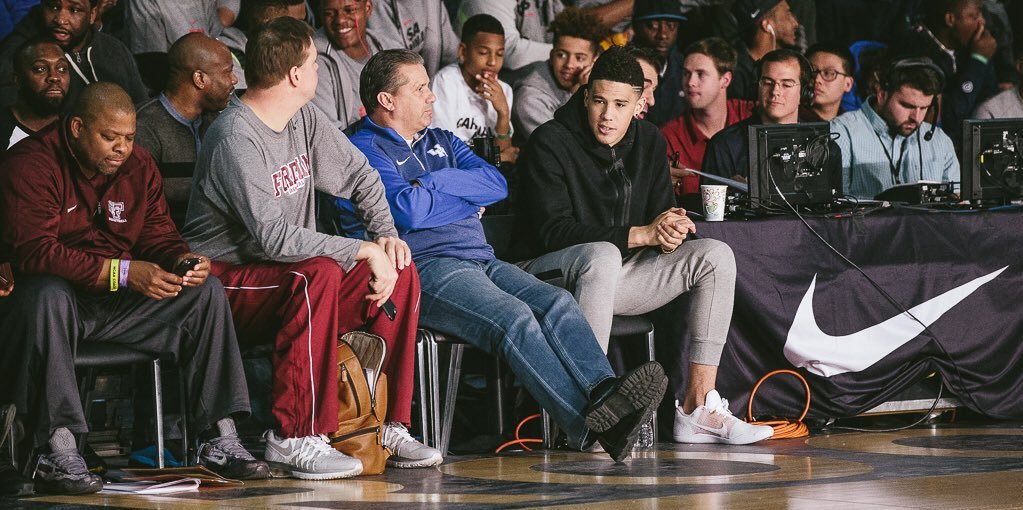 Ayton did not play up to his standards in his first appearance of the April evaluation period; he scored only seven points in the nationally televised game on ESPNU.
DeAndre Ayton
Power Forward/Center | 7-0 | 235 lbs.
Phoenix, AZ | Hillcrest Hoops
★★★★★
ESPN
No. 1 | 1 C
Top247
No. 1 | 1 PF
Rivals
No. 1 | 1 C
Scout
No. 1 | 1 C
Bamba, on the other hand, made a case for taking over the No. 1 spot with a double-double — 13 points and 12 rebounds.
Mohamed Bamba
Power Forward/Center| 6-11 | 210 lbs.
New York, NY | Westtown
★★★★★
ESPN
No. 4 | 2 PF
Top247
No. 3 | 2 PF
Rivals
No. 3
Scout
No. 2 | 2 C
Bamba's PSA Cardinals won a tight one, 69-68.
— 3:30 pm —
Nike EYBL: The Family vs. Mokan Elite
Calipari stuck around Brooklyn for even more basketball and a closer look at Trae Young and Michael Porter, the first two players he watched Saturday morning. Young and Porter had another big performance in their second game in front of Cal, combining for 45 points. Porter's 26 came on 11-of-13 shooting from the field, while Young hit seven of his 13 shots for a second straight 19-point performance.
Bill Self was also in attendance to scout out two of his top and nearby targets.
— 5:00 pm —
Nike EYBL: Team Penny vs. Las Vegas Prospects
Nike EYBL: Mean Streets vs. WACG
The basketball continued for Calipari, now going on his ninth consecutive hour of Nike EYBL. In this one he got a look at five-star point guard Troy Brown versus five-star power froward PJ Washington in the 5 pm game.
P.J. Washington
Power Forward| 6-7 | 225 lbs.
Dallas, TX | Findlay Prep
★★★★★
ESPN
No. 19 | 5 PF
Top247
No. 29 | 11 PF
Rivals
No. 23
Scout
No. 23 | 4 PF
Washington went for 17 points and eight rebounds in the loss, while Brown had 11 points in the win.
Troy Brown Jr.
Point Guard | 6-6 | 200 lbs.
Las Vegas, NV | Centennial High
★★★★★
ESPN
No. 22 | 4 PG
Top247
No. 19 | 3 PG
Rivals
No. 8
Scout
No. 7 | 2 PG
Cal also popped in the 5 pm game between Mean Streets and WACG for another look at John Petty. Petty scored only five points for yet another mediocre showing in front of Kentucky.
— 6:30 pm —
Nike EYBL: The Rens vs. New York Lightning
Cal continued to stick around Brooklyn on into the night for a look at Hamidou Diallo, one of the best scorers in the class.
Hamidou Diallo
Shooting Guard | 6-4 | 170 lbs.
Queens Village, NY | Putnam Science Academy
★★★★★
ESPN
No. 14 | 2 SG
Top247
No. 10 | 2 SG
Rivals
No. 10
Scout
No. 9 | 1 SG
Diallo scored 26 points in his April 2016 debut on 9-of-13 shooting from the field.
— 9:00 pm —
Under Armour Association (U16): Texas Hard Work vs. New Heights
Calipari finally left Brooklyn to catch some of the UAA event on the main island. He was spotted courtside for one of the younger games Saturday night, featuring Gerald Liddell, a five-star small forward out of Texas in the 2018 recruiting class.
Liddell scored 22 points in the win in the U16 division. He's going to be one to really watch next summer.
SUNDAY
— 9:30 am —
Nike EYBL: PSA Cardinals vs. Oakland Soliders
Calipari made it back to Brooklyn Saturday morning for more Nike EYBL basketball, as if he didn't see enough the day before. He began the day by checking in again on Mohamed Bamba, one of the stars of Saturday's action.
Bamba shined once again Sunday morning, this time tallying 17 points and 16 rebounds in a win.
— 12:30 pm —
Nike EYBL: Albany City Rocks vs. Southern Stampede
Calipari made a brief appearance in the 12:30 pm game to see Hameir Wright, a prospect who could potentially climb the rankings with a breakout this summer. Wright is a four-star power forward ranked No. 59 in the ESPN 60. He scored 11 points with nine rebounds in the win.
— 1:00 pm —
Lunch and back-pats
Coach calipari just walked in the spot I'm eating at

— AmsterdamDidItâ"¢ TCMG (@AmsterdamDidIt) April 17, 2016
I said "wuss up coach" he said "hey" and patted me on the back

— AmsterdamDidItâ"¢ TCMG (@AmsterdamDidIt) April 17, 2016
— 2:00 pm —
Nike EYBL: Phoenix Phamily vs. The Family
After a quick bite to eat in Brooklyn, Kenny Payne joined Calipari courtside for another look at Marvin Bagley in Bagley's final game of the weekend. The big man finished with 19 points in front of the UK staff, as well as eight rebounds and five assists.
— 3:30 pm —
Nike EYBL: PSA Cardinals vs. The Rens
And in the final game of the first EYBL session of the year, Calipari was on hand to watch Mohamed Bamba and Hamidou Diallo one last time in the battle of the two New York stars and AAU programs. Bamba was a beast, just as he was all weekend, with 16 points and 19 rebounds in the finale. He finished with averages of 15.3 points, 15.7 boards and 3.3 blocks per game in the three games.
Diallo had 17 points and five rebounds to close out arguably the best overall weekend performances.
Calipari will likely hit it again this coming weekend for the second live period of the year in Indianapolis for the second sessions of the UAA and EYBL circuits.