Jill Stein Files For Recount Of Score In Governor's Cup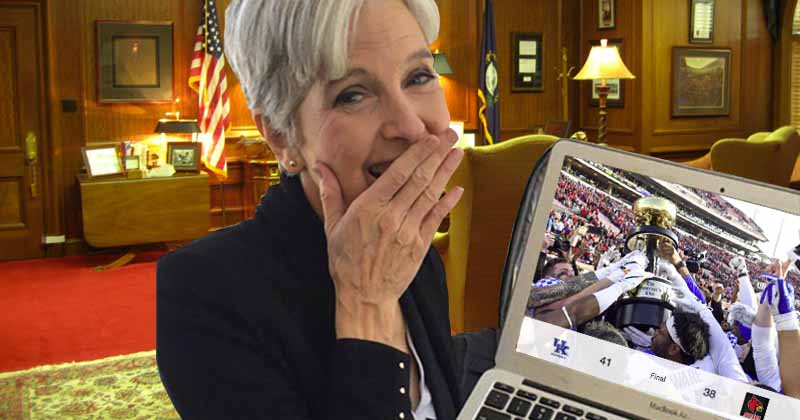 Editor's Note: The following was previously published on The New Circle Circular, Lexington's #1 source of Fake News You Can't Count On.
Former Presidential candidate Jill Stein, no seriously she was one, raised over 5 million dollars yesterday, thanks to a sizable donation from Papa John Schnatter, in order to fund a recount of the final score Saturday's Governor's Cup.
ACC game officials have been instructed to re-watch the amazing football game and double check for any scoring errors that would have potentially changed the outcome of the game. Cardinal fans have begun to protest the outcome of the game, despite it being over, and nothing is going to change the outcome, no matter how many times they say it was unfair. The fans and Jill Stein have demanded the recount amid the hope the officials will potentially find evidence of of hacked scoreboards, fraudulent fumbles, and inexplicably exceptional wide receiver play leading the Wildcats to an unexpected victory. Recount supporters are also relying on a late influx of absentee points and third down conversions coming in from overseas.
Stein a former Green Party candidate who claims to be a real doctor with a medical degree from Harvard, when we all know the internet told us that she was just a chiropractor, was somehow able to raise the 5 million dollars required to fund a recount of the game, while she herself was only able to raise 3.5 million dollars for her own Presidential campaign.
Stein claims that, like vaccinations, people have 'real questions' about the outcome of the University of Louisville's loss to Kentucky, like whether or not the ACC should be considered a viable football conference, or why anyone, including the people of Las Vegas, would have considered Kentucky a 4 touchdown underdog to them.  "I'm told Coach Petrino loves to ride bikes as much as I do, and wherever there is someone who's willing to admit that they like to ride bikes, I try my best to help them," said Stein.
Stein's brother Frank N., who also claims to be a doctor, agreed with his sister's petition for a recount.  He explained, "There must have been an error on the scoreboard, or something! I mean why else would Lamar Jackson celebrate with the Heisman pose if that touchdown had merely set them up to tie the game at 38? That's a we just won the game celebration, so clearly the scoreboard must have been broken or something."
To keep up with The New Circle Circular, like the Facebook page or follow Harold Leeder's Twitter Account.