Jerry Meyer Picks 5 For Kentucky in 2014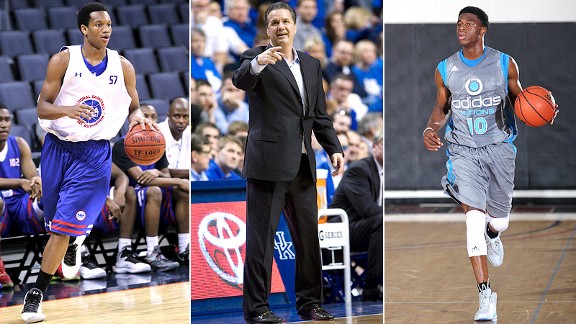 Recent rumbling about the Kentucky recruiting class for 2014 have been a bit down. Several have said it could be the first time Cal doesn't land the number one class. The staff hasn't felt as confident so they have cast a wider net and have started looking at prospects they normally wouldn't. Th notion was the Cats would land a good class but it wouldn't be the best one in all the land. Then the peach jam happened. The peach jam is the biggest AAU event of the summer an offers the first real idea of where some of these guys may end up. Interesting that Jerry Meyer of 247 flipped some of these guys to Kentucky once the event drew to a close. Guys like:
Rashad Vaughn: Meyer has picked Vaughn to be a Cat since early June despite a strong push from Dick Pitino at Minnesota.
I'm happy w my Kentucky pick at moment RT @CaseyKlas: @mustang2869 any chance you switch Rashad Vaughn to Minn. in the near future?

– Jerry Meyer (@jerrymeyer247) July 13, 2013
Stanley Johnson: Meyer picked the Cats yesterday for the California kid but there is still a chance he could end up out west.
Legit dark horse candidate RT @NickReader1: @jerrymeyer247 thoughts on USC's chancres for Stanley Johnson.

– Jerry Meyer (@jerrymeyer247) July 13, 2013
Trey Lyles: Despite comments earlier this week about the Louisville Cardinals it looks like Lyles may be back on board with the Cats. Especially after Lyles clarified what he said and read Mrs. TT's NBA post I'd assume.
Lost faith in my reasoning for having switched him to Louisville. RT @CardVillen: @jerrymeyer247 Why the switch back to UK for Trey Lyles?

– Jerry Meyer (@jerrymeyer247) July 13, 2013
Emmanuel Mudiay: Meyer is still picking the Cats to land the top point guard in the class.
Those four would join Karl Towns to give Kentucky 5 guys in the top 15 and another number 1 class. When you then factor in players like Marcus Lee or Dakari Johnson possibly returning then the Cats could be challenging for another banner. How satisfied would you be if Kentucky ends up with that class?