James Franklin's Friday News and Views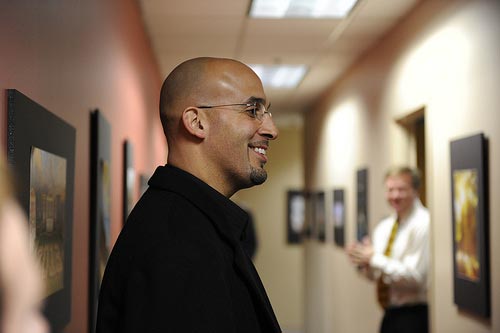 I have no idea what James Franklin is selling down in Nashville, but I'm pretty sure CBS is planning a series of anonymous surveys soon to figure it out. How can a relatively young coach pull a perennial bottom-dweller like Vanderbilt out of the gutter of the SEC? Okay, let's slow down for a minute. Vandy hasn't exactly pushed its way into the upper-echelon of the SEC by any means, but that's not even the point. James Franklin has somehow made Vanderbilt interesting, appealing and buzz-worthy. Vanderbilt is the hottest team in the SEC right now. Okay, that's not entirely true either. But again, the details aren't exactly the important part of the equation. The perception of Vanderbilt football is what has undergone a colossal transformation over the past year or so. Against all odds, Vanderbilt is kind of a cool place right now in college football. It's not quite Oregon and the rotating eye-popping uniforms and it's never going to be USC or Alabama…but Vanderbilt football matters right now. Vanderbilt football doesn't have to win the SEC or even contend for the title this year either. Vanderbilt football is somehow beginning to matter in the most important place of all: the living rooms of highly touted recruits.
Again, I have no idea what James Franklin is selling. Jay Woods, a 4-star DT prospect who was being courted by the likes of Georgia and Clemson (he had Kentucky in his final 3 as well), likes it though. Jay Woods bought it. And a week ago another pretty good  kid bought it. And 18 or so other guys (Franklin has secured 20 commitments in the class of 2013 already) before him have also bought into whatever it is as well. The number of stars next to these prospect's names and the schools who are receiving the obligatory "sorry, I've decided to take my talents to Nashville…" are starting to pile up. Some of the schools who are being rejected aren't used to being rejected either, especially in favor of Vanderbilt. James Franklin has things rolling right now for Vanderbilt, and again I'm not even entirely sure why or how. And no, today is not his birthday. That's not why these night notes are being dedicated to him. Again, the details aren't exactly the important part of the equation. This guy deserves a small tribute though for what he's accomplishing in a place where few have accomplished much before him.
And now on to the news of the day…
– The most important thing I can stress to you right now actually has nothing to do with today. Instead, it has everything to do with tomorrow. KSR has had many epic moments, legendary posts (mostly authored by Drew Franklin) and absurd/funny/memorable stories to share. I have only personally been around for a short amount of time, but I can promise you that tomorrow might be one of the biggest and most important days in KSR history. The KSR radio show will be traveling to West Liberty tomorrow for a live broadcast. West Liberty is the final stop in the tour of KSR affiliate locations. The reach of KSR has never extended in a more important manor. The show will be broadcast live from downtown West Liberty, where just a short while ago the town was devastated by a tornado. Throughout the show and the day, a variety of ways will be made available for the Big Blue Nation to contribute to relief and rebuilding funds for the area. Kentucky fans have collectively fought many battles in honor of the team we cheer for, standing together behind our team(s). Tomorrow we have a chance to stand together for an even bigger cause, and I hope all of you will join the KSR crew in whatever way possible. John Calipari will be making the trip to West Liberty, as well as other guests, to show support for the town. Joker Phillips will also be calling into the show to show support as well.
– Shorter version of what I just said: You can make a huge difference in the lives of fellow Kentuckians who have been going through a rough patch by coming out to West Liberty for the live show, calling in, donating online, etc. tomorrow from 10:00 a.m.- 12:00 p.m. on the KSR Radio Show. 
– And now on to the second most important bit of news for the day. John Calipari tweeted out the jersey numbers that each player will wear next season. If you could only pick one number to put on the back of the jersey you purchased for next season, which one would you choose? I'm going with Brian Long, but he won't appreciate the gesture.
#3 Noel
#4 Hood
#5  Polson
#10 Goodwin
#11 Beckham
#12 Harrow
#13 Malone
#15 Cauley-Stein
#22 Poythress
#32 Long
#33 Wiltjer
#34 Mays
– When I turn 80, I'll settle for a trip to the grand canyon in my Hoveround (or a Life Alert package). Phil Knight, the co-founder of Nike, has slightly bigger ambitions for his 80th birthday bash. Knight is looking to host all of the major Nike schools in a 16-team, two-tournament event in November of 2017 (will Michael Avery be a freshman by then?) in Portland, Oregon. The plan is so intriguing that I'm not sure John Calipari didn't help him come up with it. The logistics of the tournament(s) have not yet been completely ironed out, but they have 5 years to work on it–so I'm thinking things will turn out okay. The schools included in the event will likely be: Kentucky, Michigan State, Duke, North Carolina, Florida, Ohio State, UCONN, Georgetown, Texas, Oklahoma, Stanford, Oregon, Xavier, Butler, Gonzaga and Portland. The winner of the tournament gets LeBron James.
– Men allegedly think about sex every 7 seconds of the day. Coincidentally that is how often CBS writers and anonymous coaches think about John Calipari. Next question…
– Max Preps updated their 2014 class rankings and Andrew Wiggins topped the list. Later in the day reports came out that Wiggins has made the necessary adjustments to position himself to be eligible for the 2013 class if he decides he wants to make millions of dollars after winning a national championship a year earlier than expected. It simply cannot be stressed enough that if Wiggins decides to declare for the 2013 class, and joins forces with the likes of the Harrison twins, Xavier Rathan-Mayes, James Young, Julius Randle, etc. at Kentucky– the class would be Calipari's greatest yet. Take a moment to consider the classes he's had at Kentucky.
– Safety Glenn Faulkner of the Kentucky football team will be out 6-8 weeks due to an ankle injury that required a screw being put in during surgery today. Joker Phillips discussed the possibility of Faulkner being able to reshirt this season.
– The jury is also still out on the status of RB Josh Clemons heading into this season. The MRI results today showed that everything is fine, though he is still feeling discomfort and swelling. Phillips has not ruled out the possibility of a redshirt this season for him as well. Phillips says it is still "too early to say" on Clemons. 
– CBSSports.com recently came out with some Division I college football rankings and there was a bit of a surprise regarding the order in the rankings from the teams in the state of Kentucky.
#29  Louisville
#83  Western Kentucky
#92  Kentucky
Regardless of the rankings, I still feel as though during most years Kentucky could contend with almost every team in the Big East. According to Jerry Palm's CBS rankings though, Kentucky only sits ahead of Syracuse in the Big East. Louisville fans just threw up an "L" in celebration. And maybe the Crown Royal shot they just took as well.
– If you haven't heard of Eldrick Floreal yet, you will soon know about him. Floreal is the new track and field coach at Kentucky, and he has already provided us with one of the better one-liners in a press conference in a while. When asked about how he wants to reboot the program quickly, Floreal had this to say:
"Sucking is not something I'm interested in easing out of."
Someone make a t-shirt. Do it, flo-real. I had to.
– In a "random interesting fact of the day" note, Indiana freshman basketball player Peter Jurkin apparently has 17 brothers and 8 sisters. In other news, 25 people in the Jurkin family are grateful that they weren't the one given the first name "Peter."
– Thanks to the Sports Center Vault, we can look back to a simpler time…A time before Tim Tebow's birth(day celebration that was the most ridiculous thing ESPN has ever done. Ever. Ever, ever).
– And last but certainly not least, if you get the chance, go out and support the UK women's soccer team in their opening match tomorrow night at 7:00 p.m. against Coastal Carolina. The match will be played at the UK Soccer Complex, just a stone's throw from Commonwealth Stadium. Head coach Jon Lipsitz was on the radio show this morning and he has quickly become a KSR favorite. He is one of many great hires in the non-football/basketball coaching sports by Mitch Barnhart. Did I mention they just had a top 5 recruiting class? They are going to be good.