Jahlil Okafor and Tyus Jones are "99.9%" certain to be a package deal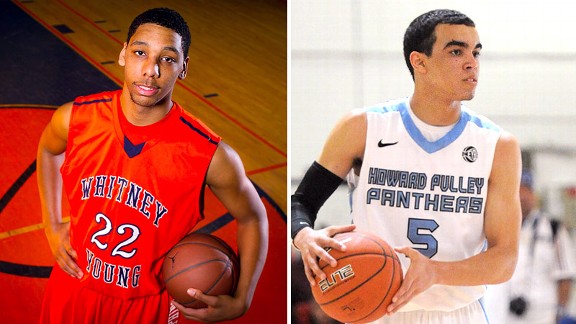 Two of the top players in the 2014 class, Jahlil Okafor (5-star, 6-11 center) and Tyus Jones (top-rated 6-0 PG), most likely want to play college basketball together. The notion isn't entirely new, as the two have talked about the potential for a package deal throughout their recruitment. Last night after the Boo Williams event, Okafor gave even more credit to the idea though. "We're very serious about it," Okafor told the Herald Leader. 
When asked to put a percentage behind the Okafor-Jones package deal, Okafor said that the chances were "99.9%". The two players are planning to take an official visit together to Baylor at the end of August. The two have a number of common schools on their lists, including Kentucky.
Tyus Jones has narrowed his list to Kentucky, Duke, Kansas, Michigan State, Baylor, Minnesota and Ohio State. Okafor's list is not quite as set in stone at the moment. Okafor says he has about 8 schools in mind, with an even more narrowed list in his head. When asked if Kentucky was in his head, he said yes.
Jones has already taken an unofficial visit to Kentucky for the Kentucky/Texas A&M game (don't try to remember the details… they hurt). Jones told the Herald Leader that he didn't think too much into the loss and was more impressed with the atmosphere at Rupp Arena.