Is Tubby Leaving Minnesota?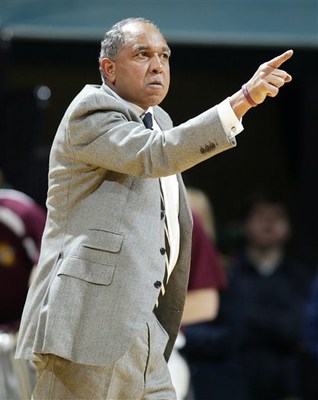 Because it's been a while since we have seen the Tubby Stare.
Earlier this year some stories started brewing about Minnesotans disappointment with former Wildcat Tubby Smith as their head coach.  They were having a lot of the same grievances Kentucky fans had in the last couple years, questions about his ability to develop talent and the level of recruiting.  But Minnesota is now 18-12, including a marquee win over Wisconsin a few weeks ago, and is sitting firmly on the bubble with a chance to get off it if they could upset Michigan State in the second round of the Big 10 tournament.  While the concerns haven't vanished about Coach Smith, his critics have certainly quited down. (Which only goes to show the differences in Minn/Kentucky.)
Meanwhile, Oregon coach Ernie Kent has all but left Eugene (which is where UO is located, if you didn't know,) and the back room discussions have begun.  Supposedly the former Kentucky coach is on the Oregon AD's list. While Tubby currently denies any particular interest in taking the job, he has yet to come out and say that he's committed to Minnesota either.
When asked about his thoughts on the matter, Coach Smith had this to say.
"If I ever addressed every rumor, then I wouldn't be able to do what I do.  There's always talk about coaches leaving and players leaving. It's part of the business. We're happy here. Even though this year was an up and down year, we feel like we have the right pieces in place. We think we can be a pretty good team in the future."
After the past four years, we're all familiar with Coach Speak, and that's absolutely what this is.  No, you don't have to address every rumor, but you do have to address this one, because it has been brought up.  As always, if he wanted to squash the rumors, Coach Smith would have come out and blatantly said no.
It's too early to tell who will end up on the sidelines wearing green and yellow, but I don't think I'm alone when I wish them success, with or without Tubby.  I mean, who doesn't like Ducks?  Plus, it's only seems fair, after what ex-duck Rich Brooks did for us.