Is John Wall just O.J. Mayo: Part Deux?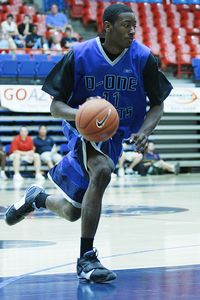 A lot has been made about Baylor supposedly taking the lead in the John Wall sweepstakes after they hired the founder of his AAU team as their director of player development.  Now, CBS' Gary Parrish is reporting that up until April of this year, Wall's D-One Sports coach was actually a licensed sports agent and alleges that certain college coaches have said that Wall's recruitment goes directly through the D-One staff and that they are discouraged from contacting his family.  Fishy?  Maybe.  Normal protocal?  It's possible.  I don't really know.  But, it certainly makes you wonder if there is a situation brewing.
But, with that said, he sure looks good in blue.  And, the dude is absolutely nasty which keeps him at man-crush status for the moment.