"I Definitely Want to go 1-v-1 with Alex Morgan"
Arin Gilliand has grown up as one of the most talented soccer players in the state of Kentucky- and now, she's getting a chance to measure herself against the best players on the national level this summer while training with a professional soccer team in Portland.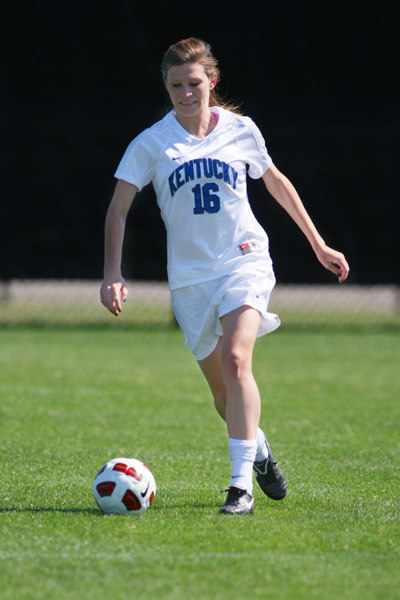 Thanks to a push from her head coach at University of Kentucky, Jon Lipsitz, Arin was invited to train with Portland Thorns FC, a professional team in the National Women's Soccer League. Her level of participation with the team's training is simple: "everything but." Everything but playing in actual games, that is. Arin is allowed to watch film, weight train, practice, even go to the local bowling alley to celebrate a player's birthday.
Arin doesn't take this kind of national opportunity lightly, considering she's coming off a year in which she suffered a torn ACL and partially torn meniscus that put her ability to start her sophomore season healthy in severe jeopardy. And as an outside back, Arin will have even more chances to show the national coaches that she's capable of competing on the professional level (Portland has only three healthy backs on their roster). As Arin told Guy Ramsey,  "I want to get my name out there and show them what I can do for this team and maybe in the future possibly coming here. My main goal is just to show I'm capable of playing at this level right now, so two years from now they can only expect more."
Arin also has a huge advocate in Lipsitz, who personally recommended that the Thorns bring Arin in to train with the team. He believes that with the right professional experience, Arin will only continue to improve on her already stellar physical game, telling Ramsey that "to train and be with some of the best players in the world is going to show her what being a professional is all about."
And yes, part of being a professional will include training with Alex Morgan, the newest young star for US Women's Soccer and a forward who has become just as well known for her good looks as for her skills on the field. As a defender, Arin can anticipate the moment when Alex "Baby Horse" Morgan dribbles directly at her en route to the goal- and Arin's not scared.
"I definitely want to go 1-v.-1 with Alex Morgan," Gilliland said. "I mean, who doesn't?"
I think any of the guys reading this blog who immediately go to Google Alex Morgan would agree.
@KristenGeilKSR