Humble Behavioral Suggestions: Western Kentucky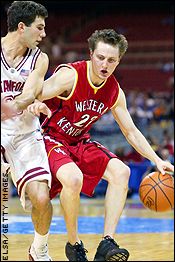 Seriously. This guy? 
Bye weeks suck. There, I said it. While important for the physical and mental stability of a football team, they are sheer torture and hellish for the football fan. What if the fans took a bye week, football team? What if we all decided that we were "tired" or "injured" or "needed to study?" Huh? Then where would you be? Playing WKU in front of 0 fans, that's where. Bye weeks…football players are a bunch of prima donnas.
For the sake of the comments section and my own sanity, I should tell you that I don't think football players are prima donnas.
Hey, Western! Sure, come on down to Commonwealth! You guys have a football team? National Champs? Huh? When…?
Kick it with Kige: Native son and YouTube Sports extraordinaire Kige Ramsey is both a graduate of WKU and a diehard Kentucky fan. So, with both UK and WKU pennants adorning his basement wall, where does Kige's loyalty lie? Regardless, I'd suggest spending some time with Kige this weekend. Pulling from two strong female pools, I assume this fella will be reeling in hella poon.
Be Nice, Be Wary: Allow me to personify WKU by using a simple childhood experience. While Louisville is and will always be Little Brother, WKU is kind of everyone's younger, painfully unathletic cousin from another town. Seriously, they're this kid:We can't be too mean to them, but when they want to play football, we're going to have to knock them around a bit. After the game, as they stand there bloody and whimpering, we'll feel bad. At least our parents won't yell at us this time.
However, be wary (as the subtitle suggests). WKU pulled this little stunt several years ago in Rupp, yet our little cousin brought his little athletic friend from another township and some tall freakish lurch of a man. Turns out the athletic kid liked you more the whole time, but he wanted to appease his cousin so he played on the other team for a while. Basically, let's hope they don't have a ringer this year. Judging by their early season games, it is likely that they do not.
Stay Away from the Ankles: Seriously, either Middle Tennessee's game plan included lower leg hacks or UK players have weaker ankles than Randolph Childress defenders (does that even make sense?). Regardless, as our brothers from other mothers walk through the throngs of UK fans, heed to the warnings of the police officer needlessly spitting in your face and GET BACK!!!!
Holy Crap, is this Guy Tailgating?: Luckily the Port-a-Lets are unisex.