The one constant in Kentucky's topsy-turvy basketball season has, thus far, been the play of Nerlens Noel (Arrgh-chie moments don't count). Averaging 10.6 PPG, 9.6 RBG, and 4.5 BPG, there have been countless times that Nerlens' hustle has single-handedly kept Kentucky in the game- and for that, we tend to avoid critiquing him.
However, there are two ways Noel could improve his game, especially on an offensively-challenged team like this year's Cats. The first is pretty simple- free throw shooting. At 53% on the season, teams we face from here on out will likely choose a hack-a-flattop strategy when it comes to playing defense against the feller. There's not that much else to discuss here- we talkin bout practice, guys. Noel should be ending every practice by shooting extra free throws before he leaves the court.
The second way Nerlens could improve his game comes from Michael Veneziano of ESPN Stats and Info. Veneziano compares Noel's blocks to those of Kansas senior Jeff Withey's, who's been posting similar numbers. Withey currently has 258 career blocks for Kansas and averages 4.0 BPG, but the big difference between him and Noel's play is in the results of their blocks. Check out these pie graphs: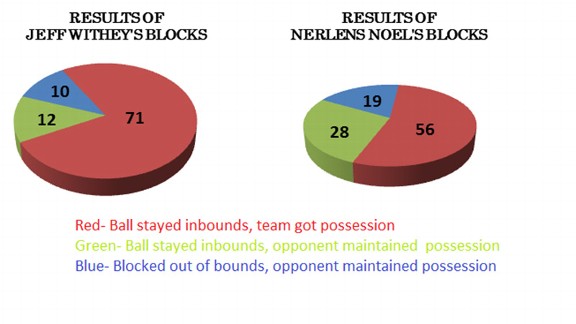 Basically, Noel is more likely to play "get the eff out of here" with any shot that comes his way, while Withey shows more ability to direct the rejection into another teammate's hands. Withey's 71 blocks (out of 93 total) in which his team retained possession have led to 66 Kansas points, while Noel's 56 (out of 103 total blocks) have gotten the Wildcats 56 points. That may not look like a big difference now, but in the waning minutes of a close game, retaining possession will be a huge factor.
So if you woke up in a nitpicking mood this Monday morning, here's something for you to kvetch about. Nerlens can stand to work on blocking the ball towards an open teammate. Here's hoping he debuts that talent against Florida tomorrow night.