Horse racing has a sense of irony today
First off, let me say big time congratulations to Big Brown, coming from the 20 post to basically dominate a Kentucky Derby like very few before him.  I will say this now, Big Brown SHOULD win the Triple Crown.  Will he? Who knows? But he should, because this is a weak group of 3-year olds and he will face two more weak groups in the Preakness and Belmont. 
But, we all know what the headlines will be in the newspapers tommorow, and thats the unfortunate passing of Eight Belles.  The most amazing part of rewatching the race was the way Eight Belles was absolutely running away from the field (sans Big Brown) down the stretch.  She was BY FAR the 2nd best horse today, and then maybe as strange as thing as I have ever witnessed occured.  TV cameras were following Big Brown, interviewing the jockey, and suddenly they switch to Eight Belles laying on the ground.  For those who watch horse racing on a somewhat regular basis know when a horse is unable to stand this always spells trouble, and usually means the horse suffered a catastophic injury.  And Eight Belles was no different.  During her gallop after the race, she fractured both front ankles, crumpling her to the ground.  Vets immediatly euthanized her, saying there was no way to save her, much less even get her into an ambulance. 
But, I am struck by the irony in this entire situation.  Its no secret that horse racing has been declining in popularity for many years, and I truly think you can date it back to July 6, 1975.  That day a filly named Ruffian, who had won the filly Triple Crown that year, was set up in a match race with Kentucky Derby winner Foolish Pleasure.  Ruffian was undefeated coming into the race, but broke down shortly after the start, and was euthanized later that night.  An estimated 18 million people watched on TV.  And, for the first time, your average racing fan saw the bad side of the sport.  It turned people off to horse racing.  The Affirmed-Alydar battles of 1977 probably helped raise the sport back some, but since that time no horse has won the Triple Crown. 
Attendance has dropped significantly, and overall popularity has dwindled.  Watching the great filly Eight Belles battle with Kentucky Derby winner Big Brown created a sense of irony for me, thinking about Ruffian-Foolish Pleasure.  I truly think that horse racing may never recover from its decline, and today's race, plus Barbaro's tragic death, ruined the experience for so many fans.  If only Eight Belles hadn't broken down, we may have seen a resurgance of racing this year.  The top boy (Big Brown) versus the top girl (Eight Belles) three times in 7 weeks.  Eight Belles could have been a star, and now she is only a sad story.  But for me, whats even sader, is the almost certain permanant damage done to the horse racing industry.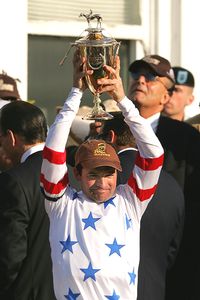 The only way horse racing recovers is with another superhorse, a Triple Crown winner.  It's the major problem plaguing the sport today.  Its only a 3-race sport to nearly the entire country.  Outside of this state, nobody watches or cares about the ponies except for 3 days in the spring.  But, imagine if Big Brown wins the Triple Crown.  Then, whatever his next race is would be highly publicized.  People would start to care about the next crop of 2-year olds coming up, asking who the next Triple Crown winner can be.  As much as television wants to highlight the trainers and owners and jockeys, to me, its all about the horse.  My all-time favorite horse is Smarty Jones, and I truly can't tell you who the owner, trainer, or jockey was of that horse.  Because I am an average fan.  Fans care about the horse, but only for the great ones, and we haven't had a great one in nearly 30 years.  It's time to mourn the loss of Eight Belles, but also cheer on Big Brown to a Triple Crown, so that this sport can be saved.