Hope You Have Your Violent Cuts Ready!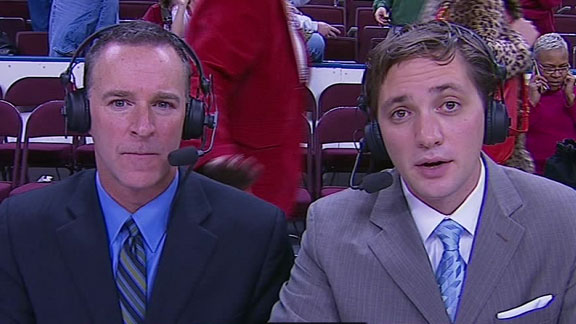 ESPN announced today that it would be sending announcing teams to all the arenas in which it will be covering Midnight Madness. In addition to having Andy Katz, Jay Bilas and Digger Phelps in studio, there will be a roving group of talking heads around the country to give everyone the action from the first practice of the season. With Kentucky one of the teams spotlighted, it is good to hear that Jimmy Dykes and his crazy puns will be in Lexington, joined by some guy named Doug Hill, who I dont really believe actually exists. Dykes of course tends to get all the SEC games and has become as permanent a fixture in UK fans' households as their Rob Bromley portraits over the fireplace. His ability to break down game film, talk about his days as a UK Assistant and produce catch phrases that become references for UK fans everywhere make him one of our favorite announcers, even though he has never actually joined KSR on the air. We look forward to seeing him on Friday and kicking Doug Hill in the shins while we ask who he thinks he is.
The entire affair is on ESPNU beginning at 9 pm. We will be LIVE BLOGGING for the fifth year in a row and I certainly hope you join us once again.