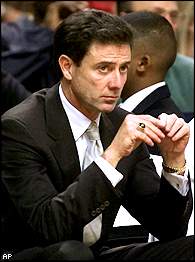 By now, Rick Pitino's miraculous resurrection of a "dead issue" is old news. Derrick Caracter will again be a Cardinal in 2009-10, if he follows the strict rules laid out to him by Pitino and his staff.
But why would he follow this set of rules? The staff has already tried this little "last straw" charade, and Caracter smirked his way right out of his dorm room window after curfew.
Twice.
When this news broke last night, I had a piece envisioned about the "win-at-all-costs" attitude that has permeated sports in recent years. From performance-enhancing drugs to "Spygate," when would respect for the game finally outweigh the will to win or succeed? When I began to think deeper, however, I realized this most recent move by Pitino may not have been totally dedicated to winning. Especially considering the talent coming in, why would Louisville need Derrick Caracter this badly? In the end, they probably don't, and a deeper, more troubling question arose.
Why does Rick Pitino lie so much? I realize that some of his fibbing is centered around motivation for his players, especially when he says things like Juan Palacios will be the next Jamal Mashburn. Fine. However, when he kicked Terrance Farley off the team a few years ago only to reinstate him after a public outcry, why would the supposed team cancer start the next game? It would seem that if there was reason to remove Farley from the team, than he probably didn't deserve to start.
But I guess that's kind of precursor to the current situation. Why does Caracter deserve another chance? This gravy boat has done nothing but break the rules and laugh in the face of authority. Though Pitino will portray this as a way for the young man to get back on track, all it really tells Caracter is that he can do whatever he wants to, break whatever rules he wants, as long as he finishes around the basket and gets back on defense. Apparently, there's is an enormous amount of talent buried beneath all of that flab.
Perhaps I'm too cynical. Perhaps I've heard too many of the Pitino spins to trust a single word that falls from his mouth. Perhaps this is merely yet another motivational tool to force DC to earn his rightful spot alongside T-Will, E5, P-Knowles, and the rest of the painfully hip nicknames given to the soldiers of "da Ville." If so, then bravo Rick for holding a kid accountable for his actions and rewarding him for doing what's right.
Forgive us for not believing you, though, because we've been shoveled this load before.