Have The Cats Hit Their Next Gear?
Earlier this week Coach Cal said that he couldn't see these Cats being up 20 on anybody. Who could argue? Since for the majority of the year scoring points seemed like an uphill battle. Guys (read: Wiltjer and Poythress) choose to defer to their teammates to create some offense. A strategy that had lead to mid-tier teams hanging around late and creating large deficits which we just could not overcome. But during the last five minutes of the game against Tennessee something changed. Wiltjer started demanding the ball and getting to the rim. The Cats finished the game on a 17-9 run to win that game by 10.
Last night Wiltjer's great play continued as the Cats went down to Auburn and just ch rushed the Tigers. Wiltjer finished with 17 points, 4 boards, and 5 assists to lead the Cats. Wiltjer getting buckets helped the entire team as 4 other guys finished in double figures and the Cats looked as good as they have all year. So that leaves me asking have the Cats hit their next gear? Or was the game an anomaly that won't mean much in the big picture?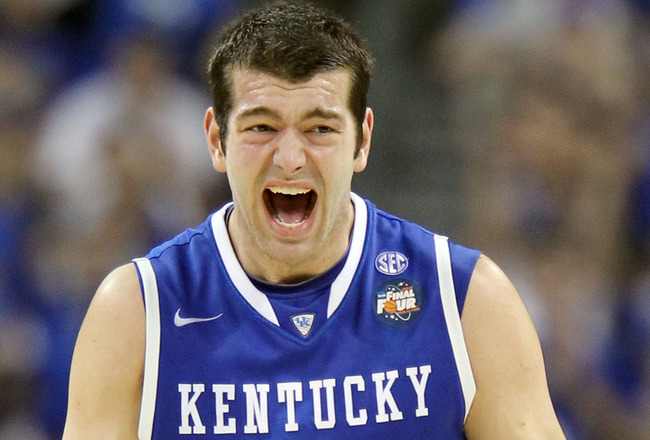 The most promising evidence for an improved offense came in the return of Jorts Ball during last nights game. Terrance Jones became the post pass master during his freshman year as constant double teams would leave our guy Jorts with easy scoring opportunities. Last night Kyle Wiltjer showed an adept point-forward ability as he created easy chances for his teammates to finish. First up was back-to-back dunks for Alex Poythress followed by points in the lane for Archie and Ryan late in the game. If Kyle can keep knocking down shots, finding teammates, and battle inside then he can help get this team to that next level.
Or was the improved offense a fluke? The big man Chubb found it hard to keep up with Wiltjer (never thought I'd type that) which allowed for clearer passing lanes and lots of open shots. The huge margin  may have been more of a result of Auburn's shooting woes than Kentucky's scoring proficiency. You can't count on teams going 0-15 from beyond the arc but Auburn did just that while shooting just 34% overall. The Tigers lacked the athletes to match up with the Cats and made them look like world beaters. Even Jarrod Polson was able to find his way through the lane for easy layups. The points they got last night aren't going to comae as easy against a team like Florida.
So what do you all think? Have the Cats found that elusive next gear that will carry them on a wave of momentum into March? Or are they going to continue to blow teams out and Cal's prediction of no more whompings come true? I hope the return of Jorts ball continues as it got Alex Poythress involved in the offense like never before and if it turned Josh into a superstar I'd love to see what it could do to Ms. Poythress' baby boy.