Goodbye Summer's Tuesday Morning Wakeup
Summer 2015 was an absolute blast. For the crew here at Kentucky Sports Radio, we toured the entire state on the radio tour, took over Fancy Farm, pretended to cover the NBA Summer League in Las Vegas, and watched John Calipari put a ton of players in the NBA Draft and sign Jamal Murray. For me, personally, I took several trips I'll never forget and claimed the No. 1 spot in the World Golf Scramble Rankings. It was an awesome couple of months.
Unfortunately, it all comes to an end very soon. The calendar turns to fall shortly after 1 am tonight, meaning today is officially the last full day of the summer. So do whatever it takes to enjoy these last few hours of summer sunlight because, tomorrow, we do fall things — like hayrides and photoshoots in leaves and stuff. You know, all of the fun fall activities.
Keeneland in 10 days. 😍
If you didn't read Matt's recruiting update last night, you should check that out.
Although, please disregard the "Bridges Falling Down" title.
Spoiler alert: KSR is not as confident as it once was regarding Kentucky's chances with Miles Bridges. Michigan State showed Bridges the better official visit, somehow, and now the Cats are scrambling to regain control of the recruitment as the clock winds down. He will announce in two weeks.
Now a HUGE fan of De'Aaron Fox.
De'Aaron Fox hosted John Calipari and Kenny Payne for an in-home visit last night and he allowed one special UK fan to sit in on the visit. That fan is Seth Barnett, a classmate of Fox at Cypress Lakes High School: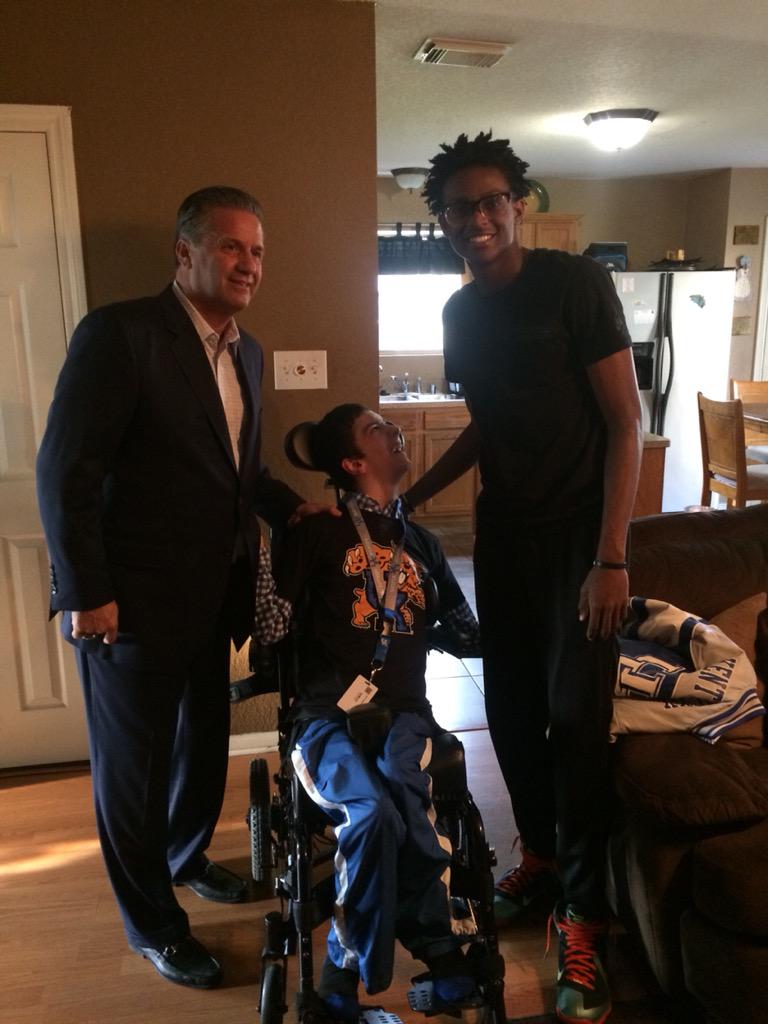 De'Aaron Fox moved to the top of my rankings with this one.
We will hear from Shannon Dawson and the offense today.
Big Blue Nation has a lot of questions and many of them will be answered when Shannon Dawson and some of his players are available after today's practice. The offense has been non-existent through the last six quarters of football and they'll need to figure things out this week if they want any shot at beating Missouri on Saturday.
Check back later this evening for a rundown of the comments.
We will tape another KSR Football Podcast tonight.
Looking forward to another fun hour with Freddie Maggard, Jared Lorenzen and Nick Roush. Send us your questions on Twitter and we will answer them on the show.
Ryan Lemond beat the odds in our FanDuel competition.
Ryan somehow finished in dead last, two weeks in a row. In Week 1, he finished in 200th out of 200. This week, he finished 500th out of 500. That's unbelievable. You're more likely to get struck by three bolts of lightning while cashing a PowerBall ticket at a Rick Pitino celibacy dinner. Way to go, Ryan. Way to go, man. Back-to-back last place finishes to kick off the season. You should get paid out for that.
KSR coming up in an hour.
More on the recruiting scoop and the Mizzou game when Matt and Ryan take over your airwaves at 10:06 am.
Go Cats.