Get to Know The Starting 5 (and some)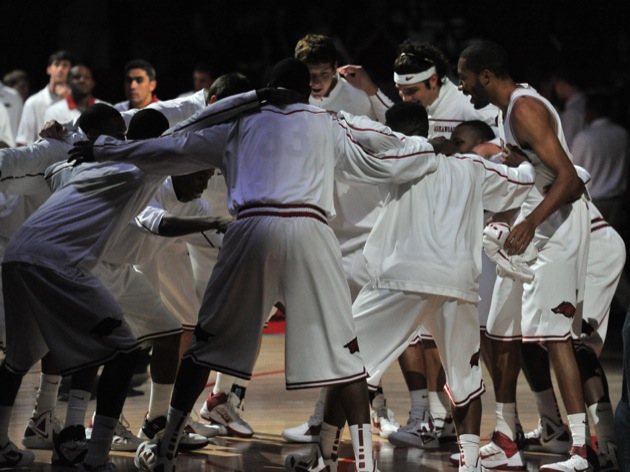 (Does anyone else remember the ridiculously long Arkansas basketball shorts of the 1990s? If you were to ask me my first ever impression, memory or thought on Arkansas basketball, it would have to be the long shorts)
Aaron Flener taught us nothing about our enemy this week (except for the 99 of you who consider Aaron's Bachelor posts to be your enemy each and every Tuesday morning), but that won't stop us here on KSR from taking a quick look at a few of the Arkansas Razorbacks' finest…
 BJ Young, 6'3″ Guard  (Sophomore)
BJ Young is arguably Arkansas' best player, averaging 15.3 ppg, Young was second team All-SEC as a freshman last season, as well as being voted to the SEC All-Freshman team by the league coaches. Young led last year's team in a number of statistical categories, including scoring, points, field goal percentage, free throws made and free throws attempted. Young leads the team in scoring once again this season as well. Coming out of high school, Young was rated as the #16 player in the nation by ESPN and #25 by Rivals. He picked the Razorbacks over Baylor, UCONN, Illinois, Indiana, Kansas, Marquette and NC State. Young toyed with entering the NBA Draft last year as a freshman, but elected to return to the Razorbacks.
Young has been struggling as of late, even causing Mike Anderson to keep him out of the starting line-up against LSU earlier this week. Young is 2-19 in Arkansas' last 2 games, including an 0-8 outing against Florida. 
More importantly, BJ Young sent this out in October. For those keeping track at home, that was before the Harlem Shake phenomenon. Imagine what BJ thinks now…
 Marshawn Powell, 6'7″ Forward (Junior)
After switching to Apple, PC mouse pads give me mild anxiety and often cause me to make a crucial mistake. The only thing worse than trying to "copy " an image and instead accidentally clicking "use image as desktop picture," is doing so on your Dad's computer while your home for a nice weekend visit. I'm 100% sure my Dad doesn't know how to change the background on his computer either (hence the water droplet picture that comes pre-programmed). I hope my Dad enjoys Marshawn Powell as his background picture for the next 10-11 months (that's how long Dells last, right?)
Powell is also the second half of the inside-outside Razorback punch (Young/Powell). Powell is Arkansas' most dominant post presence on the offensive end. Although he is undersized at 6'7″ he plays bigger than he looks. Powell is averaging 14.9 ppg. Although he hasn't been an overpowering or dominating force on the boards, only grabbing 5.3 rpg on the season–Powell is a solid weapon from the outside, shooting 40% with the second most attempts on the team. Powell is also the Arkansas player most likely to at some point tomorrow cause you to ask, "Hasn't he been there for like 5 years?" (Every SEC team has one, and you know it).
 Cody Coty Clarke, 6'7″ Forward (Junior)
According to Arkansas' official website, Coty Clarke transfered to Arkansas from Laswon State Community College. According to every other source in the entire world, Coty Clarke transferred to Arkansas from Lawson State Community College. And no, the misspelling in that first sentence wasn't Coty's name.  Clarke is currently the third leading scoring on the Razorbacks with 7.3 ppg. Clarke had a monster game against Florida last weekend in a losing effort, going 8-8 from the field to finish with 18 points.
Okay Coty, I'm going to try. You are the Doron Lamb of Arkansas' Twitter.
Yes, I believe they do.
 Mardracus Wade, 6'2″ Guard (Junior)
The name Mardracus could have been used in any of the Harry Potter books and it would have made complete sense. Wade led the SEC in three point shooting percentage last year as a sophomore. Many pre-season watch lists named him as either the best, or one of the best shooters in the SEC. I would tell you more about him, but it doesn't matter, apparently…
 Hunter Mickelson, 6'10' Forward (Sophomore)
Not Hunter McClintock. Not a good haircut.
 Michael Qualls, 6'5″ Guard (Freshman)
Qualls is an extremely lengthy and athletic guard for the Razorbacks. Qualls was considered to be the prized recruit of the freshmen class for Arkansas. Qualls has seen his playing time increase over the course of the past few weeks as he becomes a key contributor on this Arkansas team.
Google Image search Michael Qualls if you want to kill 5 minutes of your Friday night. Here, let me help you make that 30 seconds instead of 5 minutes.
 Charlie Henderson, 6'5″ Guard (Sophomore)
Some people look exactly like their given name. No one has ever looked more like a Charlie Henderson than Arkansas' Charlie Henderson.
 Kikko Haydar, 5'10" Guard (Junior)
Take away the tie (and shirt in general), add a neck tattoo and an earring (two if you're feeling crazy) and Kikko Haydar looks exactly like every U of L fan that has ever tweeted hateful things to Matt Jones. On Arkansas' website, Coach Mike Anderson described Haydar as "one of those guys that will not go away." Again, a similar description to that of every U of L fan that has ever tweeted hateful things to Matt Jones.
Fun fact: His parents are both professors at Arkansas.
He also read Coach Cal's book:
Go Cats. Cats by 5.