Georgia: Lethal or Laughingstock
There's a surprise amongst the leaders of the SEC. Florida, Kentucky, and reigning conference tourney champ Ole Miss were all expected to be there competing for the title. The Georgia Bulldogs? Not so much. The upstart team out of Athens have only dropped one game to first place Florida. So is Georgia lethal and a threat for the 1st or 2nd spot or are they a fraud nearing a fall down the rankings to become another SEC laughingstock? Let's take a look in this week's pregame breakdown: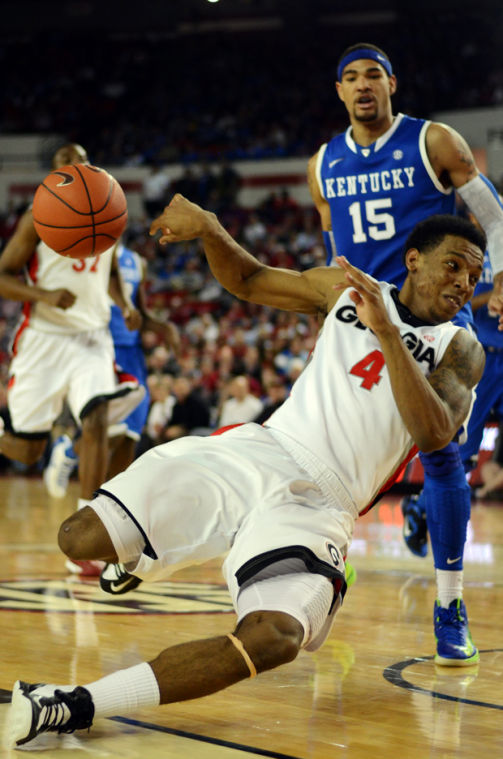 Coming into the year Georgia was picked to finish 11th in the SEC and for good reason. Last year they bumbled to a 15-17 record with a 9-9 mark in the SEC. Their best player, Kantavious Caldwell-Pope, elected to leave after last season for the NBA and now plays for the Pistons.  There wasn't much hope for the team on the hardwood this season and the early part of the year reinforced that despair. UGA came out of the gate 1-4 with losses to Georgia Tech, Nebraska, and Temple. Things seemed the lowest when, just before SEC play, the Dawgs got blown out at George Washington 73-55. Mark Fox looked to be on his way out of Athens.
Then something changed. The team rallied around the sudden passing of Fox's father to stun Missouri on the road. Since then they've knocked off Alabama, Arkansas, and South Carolina to tie UK in SEC wins and will march in Rupp with second place on the line. Oh and let's not forget it was the Bulldogs who drove the first nail into UK's NCAA tournament coffin by giving them a bad loss during the first week of March. Perhaps, Georgia is a team to be feared during conference play..
Oh perhaps not. Georgia is the ultimate fools gold in this early SEC season and if you have any stock in them I'd sell sell sell. The Cats opened as a 15.5 point favorite for good reason and that is that Georgia isn't that good at basketball. First of their wins aren't very impressive. First they surprised an overrated Missouri team in overtime. Since then the Tigers have lost to both Vandy and LSU to remain below .500 in league play. The Arkansas win may look nice since they defeated us but that win was at home where the Razorbacks are awful. Mike Anderson has a 2-21 road record with the 'backs so a Georgia win isn't so surprising. Then they beat South Carolina which is probably the worst team in the SEC.
Georgia may be good enough to finish in the top half of the SEC this year but they are far from being lethal. The Cats should have no probably dispatching them in icy, cold Lexington. What do you predict the score to be tomorrow afternoon?