Gene Chizik didn't play by the rules when Auburn won the 'ship, allegedly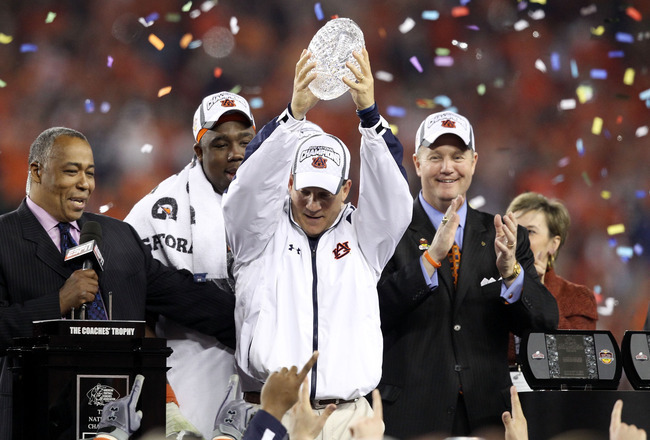 Auburn football could be in some serious trouble if the recent allegations about Gene Chizik's foul play turn out to be true. According to a report from Selena Roberts, a former New York Times and Sports Illustrated scribe, former Auburn head coach Gene Chizik altered grades to keep players eligible, bribed players to return to school over the NFL, and broke a number of recruiting rules, including handing out wads of cash to entertain recruits on visits.
YOU-CAN'T-DO-THAT! Clap! clap! Clap-clap-clap!
Darvin Adams, who holds the Auburn record for most receptions in a single season, told Roberts he was offered "several thousand" dollars to return school for his senior year. Coaches told him, "Don't tell anyone where you got it from," he claims. However, Roberts turned down the cash offering and chose to forego his senior season with the Tigers. He went undrafted in 2011 and now plays in the CFL.
The fun doesn't stop there; former AU defensive back Nieko Thorpe told Roberts he was given $500 cash to spend on current Cincinnati Bengals cornerback Dre Kirkpatrick's visit to Auburn. ESPN.com notes that the NCAA limits expenses to $50 per day.
One interesting plot twist: The allegations also include Florida head coach Will Muschamp. One former player claims Muschamp pulled cash out of his desk drawer and slid it to him, asking, "Is this enough?"
Now only time will tell if Roberts' report is enough to bring down the NCAA hammer on the Auburn football program.
[Auburn's Tainited Title: Victims, Violations and Vendettas]