Gabrielle Carteris's Weekend Top Ten News and Views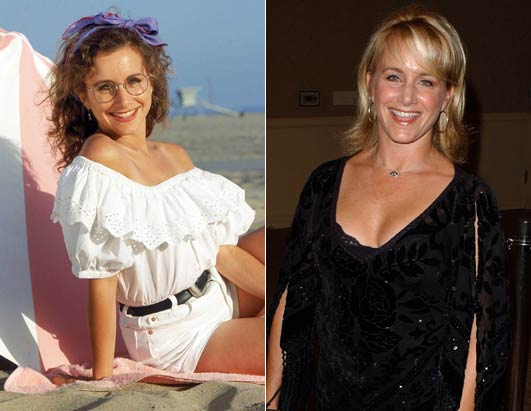 When I was a kid, I watched the first two seasons of Beverly Hills 90210. These were the early years of the enterprise, before every character began dating each other, Tiffani Amber-Theissen joined at the height of her hotness and we got to see Jamie of "How Do You Talk to an Angel?" fame. In those early years, it was all about people in their late 20s playing teenagers, including Gabrielle Carteris, who turns 50 today. Carteris played the female nerd of the school who ran the school paper and tried to win over Brandon Walsh by using motherly tactics as seduction. She always seemed to be telling everyone to stop having fun and she was one of the very few characters on television who attempted to play a high schooler wearing grandmother glasses. She survived the first season, unlike the blond kid who was friends with David Silver and shot himself, and remained part of the cast as Andrea Zuckerman until the bitter end, even marrying the worthless Jesse Vasquez in the process. Now she is 50, which means that she is much older than someone who began on 90210 should be…but it is her birthday and I hope you will join me, Ian Ziering, Matthew Laurence and all the gang from the Peach Pit in wishing her a great day.
The Ten Takeaways from the Weekend:
1. Cats Thankfully Win: It was a painful game to watch on Saturday, but at least the Cats won, keeping us from having to listen to the Dirty Birds squawk all season long. The referees robbed the game of any flow, by making it a foul fest and after the game I was very critical of their performance. However I have spoken with a number of basketball people who have basically said to me that the game was called as it should have been. Louisville came in fouling on nearly every possession, Kentucky responded with physical play and thus the game needed to be called tightly in order for it not to degrade into physical warfare. Maybe so, but it did not make it easy to watch and it was likely the ugliest battle in the history of the rivalry.
2. MKG for MVP: The star of the game was clearly Michael Kidd-Gilchrist who put together a performance that no less of an authority than Rex Chapman called the greatest in the history of the rivalry. His 24 point, 19 rebound game vaulted him to the top of the heap amongst national writers and has elevated him into an All American candidate. The best part of his game to me had little to do with the points or boards, but more with his mentality. He seemed to relish in the physical play and the dramatic environment, using it to spark his game and take it to a higher place. So many players shrink from the moment, but MKG revels in it and that makes him a joy to watch.
3. Anthony Davis as Rick Barry: An underrated factor in the 69-62 final score was the free throw shooting of the man they call the Unibrow. Davis went to the line 13 times in the second half, making 12 and essentially eliminating any hope UL had of defending him well. When the ball gets into the post against a player as long as Davis, the defender either has to let him have an open shot or foul him..there is little other choice. If Davis ends up shooting this high a percentage, the second option goes away, making it Anthony's choice how he scores 15-20 a game.
4. Press Offense: One concern going forward for me was the inability Kentucky showed to beat the UL press. All week long I said that I hoped the Cardinals would press because I thought Kentucky would destroy it and get easy points in transition. Instead, the team looked lost against any traps and had a number of turnovers that led to 4-5 easy baskets. Kentucky has been unable to get transition points in bunches this season as I had hoped, and they showcased a vulnerability on Saturday that needs to improve, or my guess is that we will see it more.
5. Wither Lamb/Jones?: The one factor that pointed to Kentucky having a chance to be transcendently good this season was the fact that two of the best four players on the team would be Sophomores and would make the leap in their second season. On Saturday, they combined to give Kentucky almost nothing. Lamb's head must have been elsewhere, as he went 1-7 from the field and allowed Russ Smith to torch him on the defensive end. As for Jones, he still isn't close to 100%, so it is hard to know what to make of his sluggish offense. Hopefully that improves and Lamb's bad game is a solo blip on what otherwise has been a strong year.
6. The Pressroom Brawl: It was secondary to the battle on the court, but in the media room, all talk was on the "Brawl for it All" on Friday at the UK press conference. Alan Cutler and Dan Rieffer (two tv sportscasters in Lexington) got into a verbal confrontation that may have had a little bumping/shoving on Friday while interviewing Anthony Davis. A video of the incident exists, and we at KSR are desperately trying to get it for online viewing. It was shown to me Saturday and I must say that it was unbelievably funny. There were threats of hospital visits, curse words and overall absurdity in abundance and it might be one of my 5 favorite things I have ever seen. It was probably best summed up by Anthony Davis, who was mere feet away and told someone afterwards, "the guy with the 'Stache don't play." No he doesn't.
7. Rick Pitino Has Lost His Mind: I am not a Louisville fan. That much has been established. But if I were, I might finally be ready to check and see if Rick Pitino has lost his mind. After the game, he bailed on the post game press conference (the first time I have ever seen any visiting coach do that), instead talking to select reporters outside his locker room. Then on his postgame radio show, he essentially threw his players under the bus, calling out Peyton Siva and Kyle Kuric in particular. He then bizarrely criticized the one player he had show up, Russ Smith, noting that even though he scored 30, he had no assists and needed to "rebound more." One could point out to Rick that the 5'9″ Smith tied for the lead of his team in rebounds with 5, but at this point, any connection between Pitino's words and reality has long since left the building.
8.HOVA was in the Building: Jay Z showed up to the game on Saturday, dressed all in black and carrying a Michael Kidd-Gilchrist jersey. He was introduced to the fans in the second half, gave a standing ovation to Medal of Honor recipient Dakota Meyer and even posed for a picture with my thumb. It was a big moment for UK basketball, as it once again confirmed that UK is intent on being the cool spot for famous athletes/celebrities in college basketball. He also was much skinnier in person than I imagined, had one woman in the audience who I heard ask her friend "Is his last name really Z?" and caused Drew Franklin nearly to pass out when he slapped him on his back. And most importantly, he inspired a large heaping of "I got 99 Problems but ____ ain't One" jokes about UL on Twitter. All in all, my favorite celebrity appearance at Rupp Arena since the cloggers.
9. Demarcus Says Uh-Uh: Demarcus Cousins is my guy, so I am probably not the most objective on this story, but it was unfortunate to hear of the latest problems for Boogie in Sacramento. His coach says that Cousins demanded a trade after a verbal argument in practice, while Demarcus's agent said no such thing happened. Either way, Cousins was sent home and did not play tonight in their game against New Orleans. KSR Loves Cousins and I sincerely believe that he is a great guy who is blasted often by critics who would like nothing better than to see him fail. It doesn't mean that he does not make poor decisions, but in this case I don't know enough about the facts to say either way. I do know that I wish Cousins the best and hope all the good that was brought out of him in Lexington will showcase itself again during his time in the league. KSR is #TeamCousins
10. Amile Jefferson narrows it to Five: Just like with Willie Cauley in the summer, KSR was told in the fall to expect to one day potentially see Amile Jefferson at UK. Well today the 2012 PF told Philly.com that his final five schools are Kentucky, NC State, Villanova, Ohio State and Temple. Most believe that UK and NC State lead, with Villanova a strong hometown pull. One has to wonder why any kid would pick Mark Gottfried over Calipari, but my guess is that ultimately he won't. In a perfect world, Calipari would like to add Shabazz and either Jefferson/Bennett to finish out the 2012 class. If he does, the train keeps right on rolling, on down to San Antone.
Even though it is a holiday, we love you so we will have a morning radio show from 10 am to noon. Expect all the above topics plus many more UL game chatter, with myself and Drew Franklin. Come join us….