FSU bids farewell to Mark Stoops with a few sentimental touches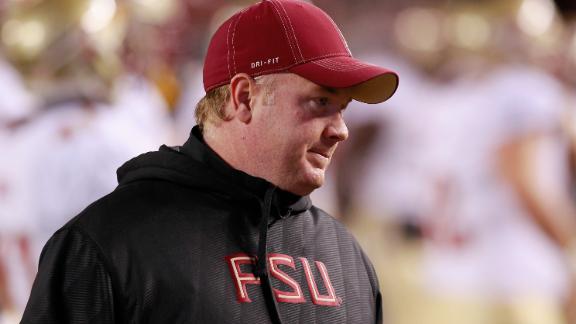 Mark Stoops coached his final game as Florida State's defensive coordinator last night. The most notable thing on display other than the solid play of his defense, was the admiration and adoration the Florida State community has for Mark Stoops. Some coaches slink off to other programs. Stoops made no mystery of his decision and as a result, was given a touching farewell last night following the ACC Championship.
For those who watched the game, a neat moment occurred at the very end. The FSU players ran over and dumped a bucket of Gatorade on Mark Stoops. The action is usually saved for the head coach, but it was obvious that the players were doing it as a send off to their beloved defensive coordinator. According to Coley Harvey (not the offensive coordinator Coley, but the Orlando Sentinel football beat writer), the marching band shouted from a distance "Thank you, coach! Thank you, coach! Thank you, coach!" as Stoops left the field with his former team for the final time. Stoops smiled, and even teared up a bit at the gesture.
"We've come a long way," Stoops said late Saturday night, speaking to reporters as he basked in the glow of FSU's 21-15 ACC Championship game win over Georgia Tech. "Each and every week, we grew… After all that hard work, they deserved this championship."
Stoops went on to talk about the difficult decision not to finish the season with the Seminoles and coach them in their BCS Bowl game.
"I do not want to distract anymore and there's a lot or work to be done on both sides," Stoops said. "But I never want to turn my back on this program and these kids. Our players, they deserved it. That's a special group to coach right there… But again, these guys were genuinely excited for me. They felt like it was the right time and I was prepared to go do it (be a head coach)."
One of Stoops' defensive players, sophomore safety Karlos Williams, expressed his excitement for his coach.
"I'm very happy he's going to Kentucky," Williams said.
The outpour of support for Stoops and his coaching move shows a lot about just how highly he was regarded while at Florida State. Not all assistant coaches get send offs quite as memorable and touching as he did.