Oregon State's Friday News and Views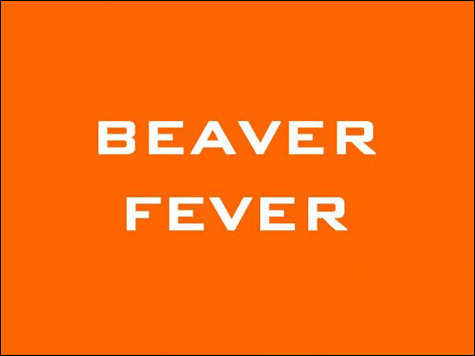 Ok, let's make this quick….
El Capitan Jones isn't able to be with us this morning because he's suffering from a major case of Beaver Fever after watching Oregon State do the unthinkable and knock off No. 1 USC, 27-21, in a game that wasn't really as close as the score indicated.  Sure, it's shocking that USC got handled fairly easily by OSU (and even more shocking that the Beavers avoided the Lorenzen/Morriss pre-mature Gatorade jinx), but this loss further proves my claim/nerd-fight of a few weeks ago that Pete Carroll is either the worst motivator in the history of college football or he is a little overrated as a coach.  His teams since winning the national title almost always come out flat and have to play from behind on a regular basis, which is a reflection of coaching.  I'm not saying that he's an awful coach, but in the last two years and change, USC has lost 5 games and, outside of Oregon last year, the teams were pretty terrible entering the game and expected to get slaughtered. 
In 2006, it was a 4-3 Oregon State team and a 6-5 UCLA team.  Then, last year it was a 1-3 Stanford team and that Oregon squad.  This year it's a 1-2 Oregon State team.  Throw in six other games in the last two years that the Trojans have won by less than a touchdown, most of which they've trailed at halftime, and I think you can say that the stereotype that USC is lazy, spoiled and arrogant under Pete Carroll might just be pretty dead-on.  But, with that being said, their talent is top-notch and they'll probably play with fire now and destroy everyone in their path, possibly making the BCS Championship Game.  Damn BCS.
But, onto the UK news (and don't worry about Matt's Beaver Fever, he has some ointment)….
(1)  The big news out of Lexington today was UK announcing that the Blue-White basketball game returns this year after a one-year hiatus and that it will take place in Rupp for the first time ever.  The scrimmage will be on November 1st and you can get the $5 tickets (a portion goes to charity) beginning Oct. 11, so you better just walk out of Big Blue Madness and get back in line.  Don't give Clyde a reason to question your fanhood.
(2)  Just a couple of football notes leading up to the game this weekend:
 – As Matt said earlier, Ryan Tydlacka and Lones Seiber will share the kicking duties – kind of.  Seiber will continue to kick the extra points and Tydlacka will handle the field goals.  In the real world, we would refer to this as Seiber losing his job.  In motivational coach-speak, it's "sharing time". 
 – The much maligned-offensive line gets a big boost this week with the return of tackle Garry Williams.  With Mike Hartline soothing some concerns against MTSU, focus turned to the running backs and wideouts.  But, if the offensive line can step it up, then all of the units will look good.  They MUST play better this week.
 – Brooks said that the Cats had a much better week of practice than they did in the week leading up to the Middle Tennessee State game.  Although, I bet he said it with a scowl.
 – With Micah "The Machine" Johnson out with his ankle injury, Braxton Kelley is moving to inside linebacker, which is what he played prior to this season.  Kelley should see plenty of snaps on Saturday too because WKU plays a spread offense and he will likely be the only linebacker on the field for a good portion of the game, much like Johnson was against MTSU.  Junior Michael Schwindel will start at weakside linebacker for Kelley.
That's pretty much it for now.  It's already too late for an old man like me and I've got to get off to bed.  Keep checking back throughout the day for all kinds of goodness including a Know Your Enemy, the weekend college football preview, the debut of a new writer (non-contest division) and maybe even a piece of hate mail.  If that doesn't convince you to come back, I don't know what will.  So, in the meantime, celebrate Martin Muursepp's birthday and be thankful you're not that ugly.
****DON'T FORGET TO COMPLETE YOUR PICKS FOR THE KSR PICK 'EM CHALLENGE