Football State: Not Yet at Least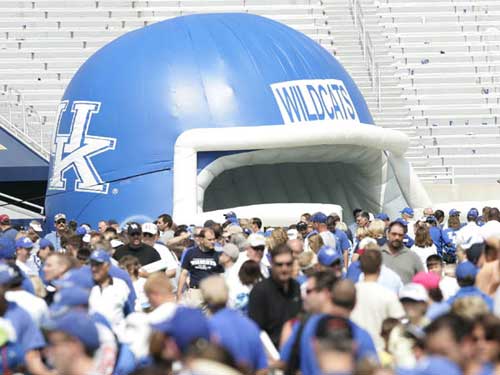 Where is the greatest drama currently taking place in the Kentucky sports nation? Well why dont you try the Big Blue Sports Network, where sources tell me that a great debate continues to come up about what to do on November 1st. The current plan is for the network to cover the basketball Blue-White scrimmage live at 6 pm and to not cover the Mississippi State football game that could make the football Cats bowl eligible. According to my source, some within the BBSN believed it was worth the expense to take the BBSN equipment to Starkville, cover the game and show it either live or delayed here in the state. However the decision was made that the basketball game was the better option, that not enough interest existed to justify the Starkville trip and that is the plan…..at least as of now.
As of now the football game is likely to be available on PPV, possibly via the Mississippi State feed. Thus if you buy the game on PPV you get it, but otherwise there will be no way to see the game either live or delayed. Now this is all subject to change and I am hearing that the BBSN is getting some heat to actually change its initial decision here, but this is where it stands as of now.
So what say you…..basketball scrimmage or football bowl-eligible game. Where should the BBSN go?