Football is a Contact Sport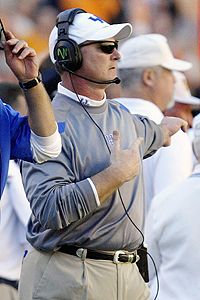 We all know that football is a dangerous sport where individuals can have crazy injuries. My man Brian Urlacher is now being said to potentially have to retire due to a freak hand injury after one simple hit. But nowhere is the painful nature of football more evident than the harsh injuries to random football coaches. Yes, coaching is more than just wearing a headset. If you are extremely old (Joe Paterno) or extremely fat (Charlie Weiss), the sideline is a dangerous place to be. Case in point, UK QB coach Randy Sanders took a nasty fall from a Louisville player yesterday and ended up breaking his wrist. Rich Brooks addressed the situation in the post-game, making fun of Charlie Weiss as usual, and saying that Sanders will be ok.
Yesterday was not necessarily a game to remember, but for Randy Sanders, it will be a game never to forget. But hopefully if Sanders is lucky, John Wall will sign his cast…and he may join Joker Phillips up in the box and away from the field.