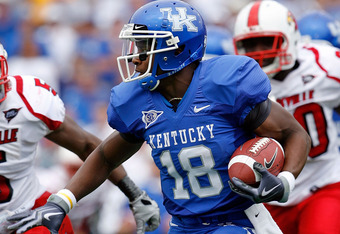 While you're out buying your Free Enes shirts and scrambling to get a gift basket ready for Lee Todd's going away party, let's not forget we have a football team to be excited about.  The Cats play their youngest brother (who is a lot cooler than "Little Brother") on Saturday in the first home game of the season.  Here are a few quick football notes to get you ready…
— Randall Cobb is good at football.  Next…
— Even though the offensive line played well against Louisville, Joker and his staff are still making adjustments to the starting lineup.  Today Joker announced that Brad Durham will start at right tackle over Billy Joe Murphy.  Durham and Murphy rotated last week against the Cards and will rotate again this weekend, only this time Durham will make the start.
— Derrick Locke said he is comfortable sending Donald Russell in the game when he needs a breather.  Locke called Russell a playmaker and said he will get more carries to help the load.  Does this mean there is a two-headed monster developing in the Kentucky backfield?  Regardless, Derrick Locke is a star and Donald Russell is giving us something to look forward to in the future.  By the way, who introduced Locke to the spin move button?  He was all over it Saturday.
— Speaking of the run game, Moncell Allen could be the second coming of John Conner.  Moncell had some huge blocks against the Cards which set up Locke for big plays and then he sent this tweet after the game: "I think i love the new job at FULL BACK !!!"  Moving from tailback to fullback wasn't exactly what Moncell had in mind for the season but it seems Turtle has embraced his role and is ready to knock someone's head off.
— Hartline.  Did you feel that?  One word and you sit up in your chair and get ready to hit the comments section.  Everyone in the state of Kentucky has a different opinion about Hartline.  I think he played well but HAS TO be more accurate.  The first play of the game should've been 6.  Randall Cobb's one handed catch should've never happened.  He did however look comfortable in the pocket and made some plays that Mike Hartline of a year ago couldn't have done on Madden.  I'm still riding shotgun on the Startline train but it needs to pick up speed.  Go get 'em, Mike.
— Saturday is United Way Day at Commonwealth Stadium.  United Way volunteers will be walking around all day accepting donations.  If you see someone at the stadium with a United Way bucket, show your Big Blue Hearts and give to the cause.  Any amount will help and will be greatly appreciated.  Donations will help improve the lives of all Central Kentuckians.
— Kickoff is at 7:30pm.  If anyone knows of a good place to watch the game in Pittsburgh, PA, please let me know.
Check back tomorrow afternoon for "They Are Who We Thought They Were: Western Kentucky" and, as always, Go Cats.