Folks We are About to see Something Historic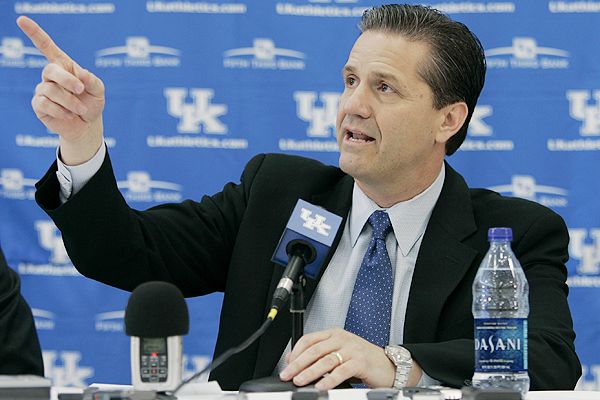 I gotta head to Middlesboro in just a few (a bad night to have to get out of town), but before I do, I have to say this: It is about to be domination central in Kentucky once again! You guys that have been around for some time know that I am not prone to hyperbole. I like to play devil's advocate and attempt to look at things rationally and against the normal view held by others. Not this time. We are about to head on a historic run in which Kentucky WILL dominate basketball once again. Read that last sentence…process it and get it down into your pores. The era of Kentucky going to the NIT and making our head hurt is over….the Cats are back and for the next ten years, we will be Top 5 every year for the decade. Period.
John Wall's commitment certainly means that we will be a national championship contender next year. With the talent UK has coming back and the new players, only Kansas and Michigan State are really in the Cats' ballpark. But the Wall commitment and the events of the last eight weeks have importance beyond next year. Calipari has shown that he will get the best of the best and will be the FORCE in college basketball for the next decade. Gone are the days of below average recruits, reaches for kids still going through puberty or late Spring signing periods with seasons hanging on the balance. Beginning are stacked classes of kids who have five star talent and a desire to come and play for the best. Simply put Kentucky will be Kentucky and everyone else just has to accept that fact.
Over the last few weeks, my friends in the national media have given me a hard time about my homer ways and my notion of what is to come for Kentucky. I dont care. Calipari is about to embark Kentucky on another stretch of dominance that will place it firmly at the top of the college basketball heap. Today it was Wall, tomorrow it will be someone else, but one theme will continue. The Cats are going to win and win big. I get asked how many championships and Final Fours Calipari will make and that much is uncertain. But here is what is certain. The next decade will be Kentucky basketball at its finest and fans need to get strapped in for what should be another ride of a lifetime.
College basketball should get ready….Kentucky basketball is back and everyone else is playing for second place.