Florida Gulf Coast's Saturday News and Views
(Why doesn't every human being go to school there?)
There are only 3 certain things in this life: death, taxes, and Georgetown losing to a team seeded much higher than them in March. Georgetown has made a habit of bowing out earlier than expected in recent years. Tonight though, the Hoyas were for the most part dominated by a cinderella you might not have known existed. Florida Gulf Coast, the 15 seed (in the school's first NCAA tournament), didn't just pull an "upset"… they dunked all over Georgetown and looked the part of the more confident team. Florida Gulf Coast University may have quietly entered the tournament, but perhaps we all should have given a longer look at the Eagles before quickly scribbling "Georgetown" into the second round third round. FGCU beat Miami earlier this season– you know, the Miami many people are riding to the Final 4. The Eagles also played a host of other good teams in Duke, VCU and Iowa State. The Eagles were not intimidated by the moment. Not one bit.
This now marks the 2nd year in a row in the NCAA tournament that a 15 seed has knocked out the #2 seed. Last year, Norfolk State and Lehigh bounced Missouri and Duke respectively.
And yes, for the fellas…this is still Andy Enfield's wife (the head coach of FGCU)
And now on the the news and views from the day…
—-  Admittedly, yesterday was a little rough. When the NCAA tournament kicked off without a Kentucky game to look forward to, I had trouble getting into the spirit of March Madness. In fact, yesterday it felt more like March "Meh-ness." At some point though, the show must go on. And on the show went today. Although it was a relatively quiet day in the world of Kentucky basketball, March Madness was at its absolute best all day long. We'll get to more of that after we hit a few of the important Kentucky-related notes…
—- Mark Stoops and the Kentucky football program received yet another commitment on the defensive side of the ball today. According to Justin Rowland, 2014 Ohio LB Dorian Hendrix committed to the Cats. The 6'1 215 lbs. Hendrix committed while on his unofficial visit this afternoon. Hendrix held offers from Ohio, Indiana, Illinois and others. The LB also had been receiving interest from Wisconsin, Northwestern, Purdue and Tennessee. 247 Sports lists Hendrix as the 25th best inside linebacker in the nation and the 29th best prospect in Ohio.
—-  Hendrix might also be pulling double duty this weekend as a recruiter. Four-star WR Thaddeus Snodgrass (old man Snodgrass' son) is also on campus this weekend. 2-for-1? Let's hope.
—-  In other football news, the team took to the field again this afternoon for another spring practice. Mark Stoops continues to feel more positive about the returning players with each practice. "This is the best we've looked," Stoops said after today's practice. If you want to catch a glimpse into how Stoops goes about communicating during practices– the new UK coach was mic'd up during an earlier session. Check it out below:
—-  Let's flip the script to basketball for a moment. The future is bright for Kentucky for a number of reasons. Let me give you 3 of them…
1) Julius Randle was quoted today as saying, "We'll get Kentucky back to where it's supposed to be." Randle and the rest of the 2014 recruiting class have a certain confidence about them. Of course we won't know until they take the court, but I don't foresee this group shying away from the enormity of playing at Kentucky.
2) One NBA Scout stated today that Kentucky could have up to 8 first rounders in the 2014 NBA Draft. Another UK informercial on Draft night? Okay… fine by me. #Needle
3) John Calipari spent part of today in New York visiting 2014 5-star SG Isaiah Whitehead. 
And if I had a dollar for every time Coach Cal was pictured with Irv Gotti…I'd probably be able to tell you a little more about Irv Gotti.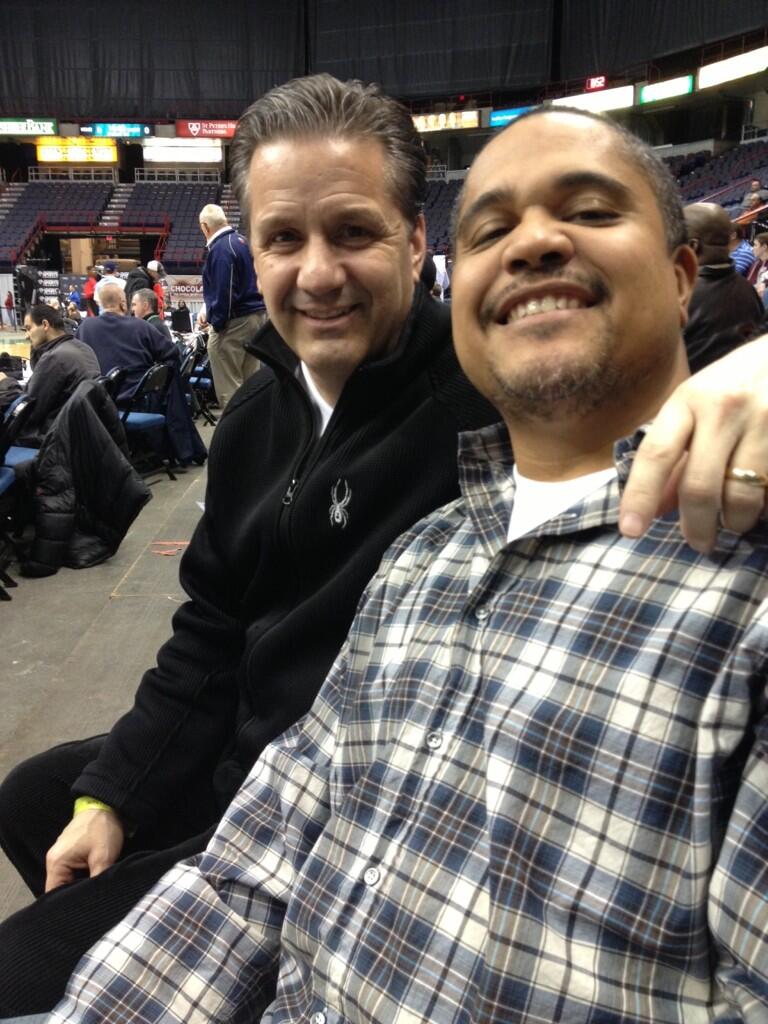 —- Orlando Antigua made the trip to New York with Calipari. Antigua was in the news earlier today as he is being considered for the newly vacant head coaching job at Hofstra. I think we all probably know that it's only a matter of time before Orlando Antigua makes the big jump. Antigua has been one of the best recruiters and one of Calipari's top assistants. Calipari has said on multiple occasions that Antigua will have the opportunity to be a little selective when it comes to his first head coaching job. Cal has always said that it's not about taking a job in a big conference, but rather taking a top 4-5 job in any conference. You can win anywhere. Instead of going to a bottom dweller in a BCS conference, go to a top 4-5 team in any conference. We'll see if the Hofstra/Antigua rumblings grow over the weekend.
—- In some bad news for an otherwise happy time for the UK Women's basketball team, one of Kentucky's effective reserves, Samantha Drake, did not make the trip with the UK Hoops team to the NCAA tournament. Drake has been suspended indefinitely for "not upholding team standards." For a team with a legitimate chance to make the school's first Final 4 trip (#2 seed, decent draw in the bracket), this kind of negativity this close to the tournament is less than ideal. Drake has had a few big games for the Cats this season and has provided some depth in the post when Samarie Walker and DeNesha Stallworth need a break. The Cats open up play Sunday afternoon. We will have more on KSR tomorrow night to preview the game.
—- In a bit of random news today, Shabazz Muhammad is "holding on to 19 as long as he can…changes come 'round soon make us women and men filthy rich millionaires."
Now let's hit some of the highlights from the Madness of March today…
1. The Wild, Wild West…
The West portion of the bracket just keeps getting more and more bizarre by the minute. The West is guaranteed of at least a #12 or #13 seed making the Sweet 16. Ole Miss (12) and LaSalle (13) both advanced earlier today, creating an interesting and unexpected second round third round match-up. The #9 (Wichita State) and #14 (Harvard) seeds are also still alive with a chance at a Sweet 16 berth.
2. The Pac 12 and the Atlantic 10 are proving the doubters wrong…
The Pac 12 rattled off a perfect 3-for-3 performance in the first day of the tournament and looked to remain perfect after today. Illinois stopped the streak by beating Colorado but UCLA has a chance to set the Pac 12's record at 4-1 thus far. For a conference that was not given much respect (Oregon with the 12 seed?), the teams are making the most of the opportunities to prove people wrong. Not only are the Pac 12 teams winning, but they are winning from tough seeds.
The Atlantic 10 has also proved to be a strong conference with some quality wins in this year's tournament already. For a conference that will have an entirely different look very soon, the final showing for this current group of teams has been incredibly impressive. "We're what, 5-0? 6-0?" The conference's commissioner can't even keep track of how fast the wins are coming in. The A-10 is a perfect 6-0 to start the tournament, leaving 15.6% of the round of 32 teams from the conference.
3. The Big East, not so much…
Only 3 Big East teams (Louisville, Syracuse and Marquette) have maneuvered their way into the round of 32 so far. And Marquette squeaked in, to say the least. A number of Big East teams put up clunkers in the opening games: Cincinnati, Pittsburgh, Villanova and Georgetown. For a farewell tour for the conference, things could certainly be going better…
4. Marshall Henderson is making a name for himself. And he's allegedly at a bar right now. OF COURSE HE IS AT A BAR RIGHT NOW!
(h/t @BradHenz)
—-  Speaking of, Marshall Henderson talked trash for a significant while on Twitter tonight to a fake Ryan Harrow account. And yet people wonder how the whole Manti T'eo situation could possibly happen…
—-  And last but not least, I'll leave you with an image once again from the back page of the Kernel…