ESPN Ranks The Top 75 NCAA Tournament Players Ever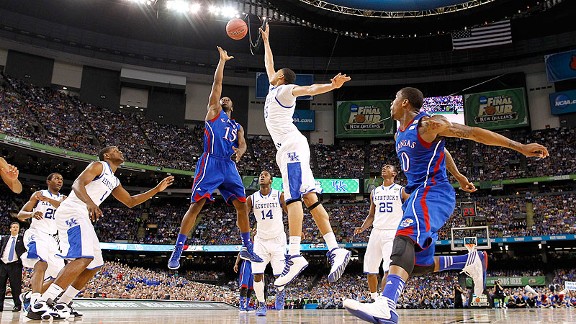 ESPN, in preparation for March Madness, decided to compile a list of the Top 75 players in NCAA Tournament history and surprise, surprise. Blue got in. The Greatest Tradition in College Basketball got 4 players onto the list spanning 4 different decades, but none ranked higher than #26. ESPN's Top 5 NCAA Tournament players of all time were, in order from 5 to 1; Magic Johnson, Bill Russell, Christian Laettner, Bill Walton, and Lew Alcindor. Here's what the experts had to say about Kentucky's greatest tournament players.
59. Anthony Davis, Kentucky — Davis had one of the most dominating seasons we've seen from a freshman big man in quite some time. Kentucky was one step above everyone else in the country because it had Davis and no one else did. His ability to block and alter shots gave a loaded Wildcats team an added dimension that propelled its run to the championship in the 2012 NCAA tournament. Davis' presence was something to behold. He averaged 13.7 points, 12.3 rebounds and 4.8 blocks to help lead the Wildcats to their first national championship since 1998, and the first for head coach John Calipari. — Andy Katz
51. Alex Groza, Kentucky — The passing of time and the stain of scandal obscure just how great Groza was. The 6-foot-7 center won Most Outstanding Player honors in Kentucky's back-to-back 1948 and 1949 national championship teams. With a dominating hook shot, he averaged 27.3 points per game in the '49 tournament, including 25 of his team's 46 points in the championship game versus Oklahoma A&M. He and the other four starters on the 1948 champions led the U.S. to a gold medal in that year's Olympics. In 1951, however, Groza's legacy was tarnished by a point-shaving scandal that resulted in his banishment from the sport. — Brian Bennett
48. Tony Delk, Kentucky — Delk scored more points in the NCAA Tournament (247) then any other player in Kentucky's illustrious history. His best game was also his last, when he scored 24 points and hit a tournament record-tying seven 3-pointers in the 1996 title matchup against Syracuse. His four-point play after being fouled on a made 3 helped seal the victory and cinch Final Four MOP honors. Delk, who also played in the 1993 Final Four as a freshman, averaged 18.8 points per game in the '96 tournament to lead one of the most dominant teams of the era. — Brian Bennett
26. Jack Givens, Kentucky — Givens is best remembered for his 41-point performance in the 1978 national championship game against Duke, which was three points shy of Bill Walton's title-game record. He sank 18 of his 27 shots against the Blue Devils. But the man nicknamed "Goose" was no one-hit wonder. The sweet-shooting, 6-foot-4 left-hander also played on Kentucky's 1975 national runner-up team as a freshman and was the leading scorer on the 1976-77 team that lost to North Carolina in the regional final. He averaged more than 20 points per game in the '78 tournament while shooting 65 percent in the Final Four. — Brian Bennett
My only beef with the list? If you are going to put one hit tournament wonders on the list like Mike Bibby at 75, then wheres the Brandon Knight love? Knight hit 2 game-winning shots against Princeton and Ohio State, scored 32 against West Virginia, and had 21 in the Final Four against UCONN. If only Kemba Walker hadn't happened then we may be talking about a 5th Wildcat on the list. Either way, the 8-time National Champions were well represented.
–@WillTottenKSR