ESPN.com's "Three Big Things: Kentucky"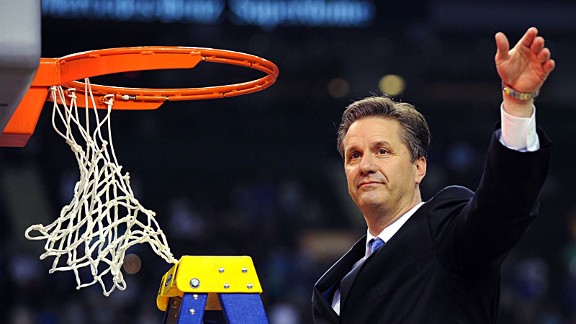 ESPN.com is previewing one college basketball team per day in the buildup to Midnight Madness, and today's featured team is your University of Kentucky Wildcats. Eammon Brennan has Three Big Things about the Wildcats:
1. I'll never forget it. 

It was just a few minutes after the 2011-12 Kentucky Wildcats had finished their season — a dominant, borderline unheard-of season — with a national title. Like many of my fellow media members, I was crowding around Kentucky on the court at the Superdome, grabbing quick interviews and soaking it up… (more)

2. At almost any program except Kentucky, that fan's request would be wildly unreasonable. 

This is, after all, a team that just sent six players to the NBA draft, four of which were selected in the first round. It's a team that had an otherworldly, once-in-a-generation talent at center… (more)

3. Is this group good enough to win a national title? I don't know! 

That's kind of the point. Nearly everyone is new, so we don't quite know what they are yet. Has Wiltjer expanded his game? Is Harrow a worthy successor at the point… (more)
Basketball season is right around the corner, folks.
It's almost here.