Early Favorites For The NCAA Tournament Darling
The NCAA tournament is always good for producing surprising upsets, dramatic games, and supplying the nation with that one must see player. With the round of 32 nearly set it's time to take a look at some of the early favorites for that guy that produces TV that is unmissable. While it's still early to predict which of these guys will still be in the conversation next weekend their games in the first round were ones you should have witnessed:
Marshall Henderson
The time was about right for the world to be introduced to Marshall Henderson as he embarks on his quest to "get money". As Kentucky fans we all knew about his antics and quotability but it seems that Henderson has elevated his game just in time for the Big Dance. Henderson continued his hot streak from the SEC tournament and helped lead the twelfth seeded Rebels over Wisconsin with a 19 point game. Ole Miss is going to live and die by Marshall's hand as he only had 2 points after the first half and finished the game shooting 6-21. For now though all eyes are going to be focused on Henderson as he tries to will the Rebels on to the Sweet Sixteen.
The Entire Harvard Team
The Excellence of Execution. Not only is that a great way to describe Bret "The Hitman" Hart and his sharpshooter but it's also apt to label the Harvard Crimson offense. Harvard's tournament shelf life could be up tomorrow as they take on Arizona but you got to love the story of the Ivy League champs taking down the 3 seed from the perennially overrated Mountain West. Tommy Amaker has shown he can get it done at Harvard. Perhaps this off season he gets another shot in a BCS conference.
Dwayne Evans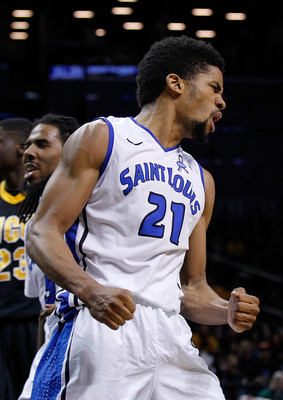 It seems like yesterday that Ali Farokhmanesh was leading the unheralded Northern Iowa Panthers over the overall number one seed Kansas. Going into the tournament Kansas was the big  favorite to reach the title game until they ran into a mid-major team with heart and talent. Perhaps the same thing will happen with this years Louisville Cardinals but before St. Louis can shock the world they will first need to take down Oregon behind the play of Dwayne Evans. Yesterday Evans went for 24 and 6 against New Mexico State and 7'5 Sim Bhullar. The A10 is now 5-0, it's time to say that conference is legit and look at St. Louis as a serious contender in the east.
Vander Blue
A great name deserves a great game and for all the people in Lexington that's exactly what they got. Davidson led by 6 with just over a minute to go but that didn't stop Marquette from making a furious rally to stun the Wildcats. Marquette will now take on former and potential NCAA darling Butler for  a trip to the sweet sixteen. Both teams have that never say die attitude that will make this match up a must watch.
So which team/player is your favorite to make a run this March and become the darling of the college basketball watching masses. With the Cats at home these four teams provided the spark I needed to get interested in the tournament. Especially with teams like Florida Gulf Coast who show there's no reason to play with fear. With Oklahoma/SDSU up next maybe we will see the first 15 seed in the sweet sixteen! Which teams are you watching?