Dont Sleep on Jason Hatcher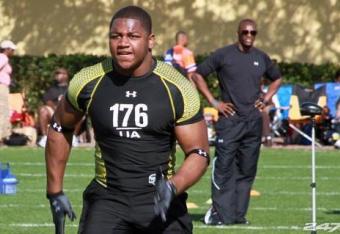 The football recruiting news is going to come fast and furious over the course of the next couple of weeks. As that happens, names will be bandied about, including those of high talent as Stoops swings for the fences. During that process, one person to not overlook as a potential Cat is Trinity DE Jason Hatcher. Hatcher is currently committed to USC and says at this point that he is firmly planning on going there. However he took a visit to Kentucky this past weekend and many Louisville fans think he will end up a Cardinal. While any of the three schools are still possible, I am told that Kentucky is in VERY good shape with Hatcher and that he could very well end up in Lexington. He is one of the most talented players in America and would be a HUGE get for the UK football program, coming from the state's best high school program. Trinity is a place Kentucky would love to have a connection in for years to come, and Hatcher would be a heck of a first step.
So keep Hatcher in mind and good news could be on the horizon.