Don't Miss Out On Wiggins!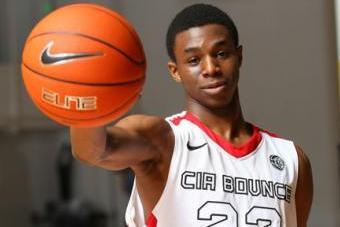 In case you somehow missed it, the top player in the class of 2014(and soon to be 2013) is playing just 15 miles from Rupp Arena today at Scott County High School. Huntington Prep is going to be taking on Cristian Faith Academy out of North Carolina. The last time the 6'8 small forward was in the state he was making the JV squad at Alice Lloyd look absolutely silly with a astounding array of dunks. Head Coach Rob Fulford says you can expect more of the same.
"He puts on a show," Fulford said. "… He does so many positive things on the court, from his athletic ability to his basketball IQ, shooting, passing. He's worth the price of admission, himself. … He's a kid that if you get an opportunity to see play, it's well worth it." (Steve Jones,Courier-Journal)
Tickets are only $10, which is a heck of a lot cheaper than the prices you'll be paying to watch him in Blue & White next season. In addition to watching Wiggins you can also see his star teammates from Huntington Prep. Many of the names should be familiar to UK fans such as Xavier Rathan-Mayes who is going to Florida State, Dominic Woodson who picked Baylor,  future SEC rival Moses Kingsley will be at Arkansas and Travon Landry a Tennessee commit.
The game is at four o' clock which leaves you a few hours to make the trip.  A three hour drive covers half of the state so you have no excuse not to make the trip. I'll see you in Georgetown.