Dominique Hawkins our Home State Hero
The first time I saw Dom Hawkins was in the KHSAA State Tournament, his senior year when he led Madison Central to a state title over Louisville powerhouse Ballard. Hawkins and Ken-Jah Bosley rode a magical tourney run to lead Madison Central to their first ever state title over Quentin Snider (Louisville) and Kelan Martin (Butler).
He received MVP honors in the state tournament over two four-star Ballard recruits, and Calipari took notice to the hometown kid's hard work. Cal offered Dom the open scholarship on the roster and he accomplished his dream of attending the University of Kentucky. He and Derek Willis are the only remaining players from the 2013 class, a loaded group of individuals that led us to the 2014 National Championship game.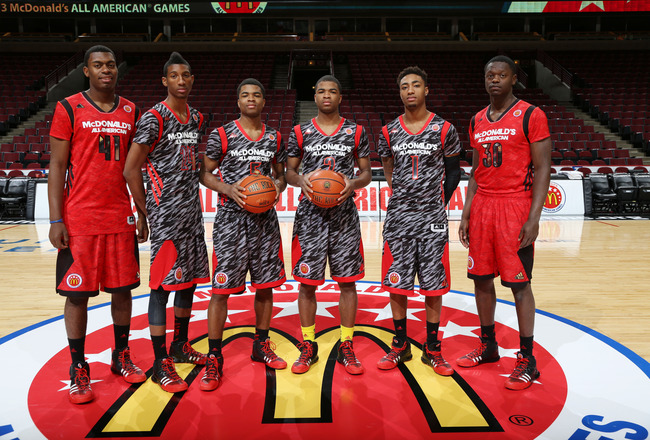 Having met Dom our freshman year in class and interacting with him around campus on various occasions, I can attest that he's one of the goofiest guys around. Everyone loved him and he would talk to anybody, he wasn't a high profile player with a huge ego, he was just happy to be here. He unconditionally viewed himself as your equal.
A funny memory I have is during freshman year, our foreign professor having called him out during class one day because he wanted to let the basketball players know they weren't any different. Made him grab his stuff, move across the room to a new seat and everything. Dom's not the kind of guy to be causing trouble, he honestly had done nothing wrong. He just couldn't stop laughing at Dakari being a complete idiot in the corner. Sorry, Dakari. It was hilarious nonetheless, he got up and followed the unjust orders from the professor who clearly just had no idea what was going on. Julius got a nice kick out of the situation too, they all roasted Dom out in the hallway after class.
Fast-forward, Hawkins as a senior wants to finally get the job done in his final season, a la Darius Miller. This kid does everything right, he is your coach's favorite player and the guy you can always rely on for some defensive pressure. Remember when Stauskas was tearing us up in the first half of the Elite 8 in 2014, who did we put on him? Freshman Dom Hawkins. He shut him down in the second half, and the rest is history. As a freshman!
Dom brings an edge to our team that only Isaiah Briscoe can bring as an older, experienced guard. He picks up 94 feet from the basket, and haunts opposing players the entire game. A defensive specialist. The hometown kid that plays big minutes for the Cats, claps his hands in the open court, and D's up so close that you can't get away from him even for a second.
He's the hustle and the effort points that your ball coach talked about growing up. Hawkins is an absolute nuisance on the court to opponents, it's just hard not to love him as a UK fan. He has poured his heart and soul into this team since 2013, and he's done it sneakily by staying off the scouting report as a reserve, and I'm sure he wouldn't rather have it any other way.
Hawkins is one of only two remaining players on the roster from the National Championship run, and he has seen what it takes to get the job done and make a deep run. Where are we currently struggling? Defense. And remind me again, what he does exceptionally well? Hmm.
It's not all butterflies and rainbows when he walks in the game, he's not an outstanding scorer and he gives up some cheap fouls in the open court. However, some of those fouls he gets called for where his hands are clearly in the air are trash calls that Cal can live with because Dom is trying to light a fire in his team by playing lockdown defense.
The next time this guy checks in the game see how many times he swings the ball and immediately moves, see how many times he takes his open path to the lane past an unsuspecting player, see how many times that this man looks to feed the post and crash the boards. He does it all, on every single possession!
There are no lapses or defensive plays off for Dom Hawkins, and if there is, then he'll be damned if it happens twice. You don't have to be a great scorer to be a smart offensive player, and his basketball IQ across the board is off the charts. He just does everything right. Couldn't be any happier for my Class of 2013 mate. Here's to getting him some more DeAndre Liggin's style pissing people off minutes on the court. Hawkins the real MVP.
Show him some twitter love if you'd like and let him know how special he is to the BBN.